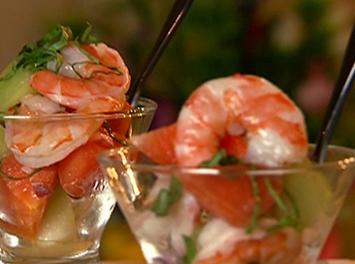 Who likes watermelon? Who likes shrimp? Okay, maybe a few of you put your hand down after that second question, but my point is this: If you like watermelon and shrimp, you're going to love this recipe.
This recipe requires you to peel and de-vein the shrimp. If you're like me and you have no idea how to peel and de-vein shrimp, check out this video. It's a great 90-second lesson, but you should skip the first 30 seconds if you don't want to know what that "vein" really is.
SHRIMP AND WATERMELON SALAD
.
INGREDIENTS
Salt
1 pound shrimp, cooked, peeled and deveined
1 lemon, juiced
3 pounds seedless watermelon, rind removed, cut into chunks
1 honeydew, rind removed, cut into chunks
1/2 red onion, sliced thin
1 jalapeno, chopped
.
Honey-Lime Vinaigrette:
2 tablespoons fresh lime juice
1 teaspoon honey
4 tablespoons olive oil
Salt and freshly ground black pepper
.
DIRECTIONS
Boil water in a medium saucepan. Add a dash of salt and lemon juice. When water boils, cook shrimp until they turn an opaque pink color. Remove shrimp from pan and shock in cold water to stop the cooking. In a large bowl, combine watermelon, honeydew, onion and jalapeno.
In a separate bowl, mix together: lime juice, honey, olive oil and dash of salt and pepper. Drizzle over melon salad and toss to combine.