Did you know that Canada is the #1 importer of U.S. watermelon? It's true!
The National Watermelon Promotion Board wanted to hear from Canadian watermelon fans, so they created a carving and recipe contest. Our neighbors to the north responded, and I'm happy to announce the winners here on What About Watermelon. Actually, I'll let Stephanie from the National Watermelon Promotion Board handle the announcement. Take it way, Stephanie!
——————-
This summer, we made a call out to Canadian bloggers, inviting them to participate in the first ever Kid-tastic Watermelon Blogger Challenge. Bloggers were asked to put on their thinking caps and flex their recipe development and carving skills in order to create a blog entry worthy of being crowned the Best Original Kid-tastic Watermelon Recipe, Best Original Kid-tastic Watermelon Carving and/or Best Re-creation of an Existing NWPB Carving. They were enticed with the chance to win a Visa gift card and a virtual champion badge.
To help them get started, each participant was sent two branded National Watermelon Promotion Board aprons (one adult and one child-sized), a watermelon-themed knife and cutting board, and a watermelon. They were also advised of the judging criteria, which included ease of preparation, originality, creativity, flavor profile and practicality.
We received so many fantastic entries, and we'd like to share some of the best with you!
Best Original Kid-tastic Watermelon Recipe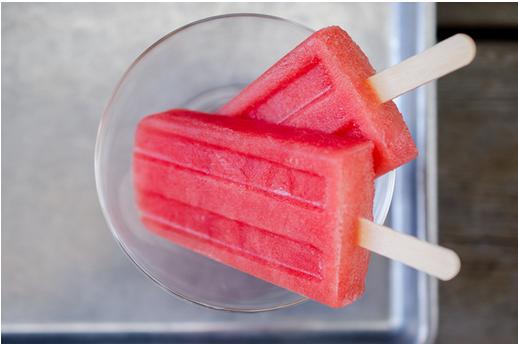 WINNER: Watermelon, Rosewater and Mint Popsicles (by Michelle of The Tiffin Box)
You'll notice from the pictures that Michelle's daughter approved of these creative popsicles, and so did we! The mint leaves and rosewater elevated this summertime treat from ordinary to extraordinary. They're a tasty and nutritious way to cool off during hot summer days.
RUNNER UP: Healthy Pink Princess Breakfast Cakes (by Christie of Home of OHM)
Christie and her girls had fun whipping up this creative breakfast recipe which features cute watermelon teddy bear cut-outs and other kid-friendly, healthy ingredients. If you have fussy eaters in your house, try getting them involved in making these. They'll love being able to decorate their food!
Best Original Kid-tastic Watermelon Carving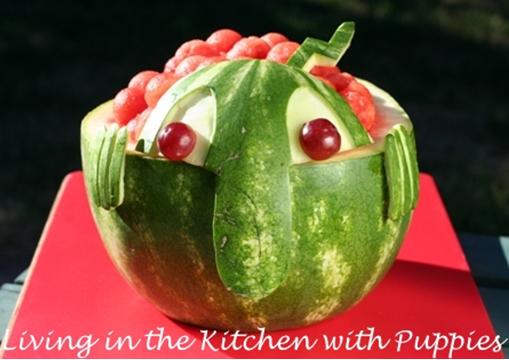 WINNER: "Watermelon Roy" (by Natashya of Living in the Kitchen with Puppies)
We spend hours in the fall carving pumpkins, so why not carve watermelons in the summer? Natashya showed us how to do just that with her carving of a historic character known as a Roy. We've never seen anything like it!
RUNNER UP: "Watermelon Dog" (by Emily of Best of This Life)
After looking at some cartoon pictures, Emily and her family decided to carve a dog out of watermelon. Complete with a bone in his mouth and a collar around his neck, this dog is a sight to be seen. He's the perfect addition to a family picnic, that's for sure!
Best Re-creation of a Kid-tastic NWPB Watermelon Carving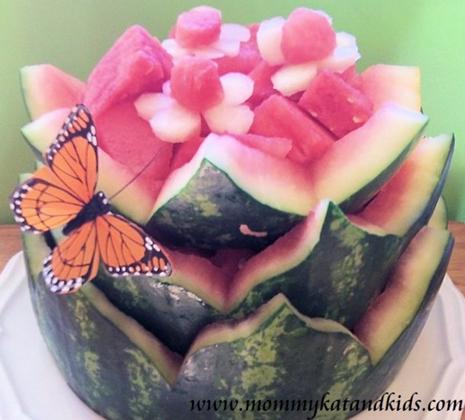 WINNER: "Watermelon Flower" (by Kathryn of Mommy Kat and Kids)
This beautiful carving speaks to some of the highlights of summer – seasonal watermelons and stunning flowers. Kathryn highlighted this on her blog, describing her watermelon flower as "a great way to make one of summer's sweetest treats even sweeter!" We couldn't have said it better.
Congratulations to all participants. Your entries were truly inspiring!