It's finally here! I've waited 364 days to wish you all a very happy National Watermelon Day! Looking back on the last year on the blog, I've seen, tasted and created some amazing and delicious watermelon-related items. If there's one thing I had to pick that I am most proud of, I'd have to say keeping up with my New Year's resolution (to prepare more meals with watermelon) is at the top of the list.
I'm not a quitter in the least, but I admit that I usually get distracted (one of the side effects of being a dad to a young daughter). This year, I'm glad to have made it through more than half the year by sharing my fun, new creations right here on the blog. So, on this National Watermelon Day, I'm going to continue sharing with these five things you can do to celebrate today watermelon-style:
– Whip up some creamy watermelon sherbert. It's the beginning of August, so the summer heat is in full swing. Stay cool with this awesome recipe.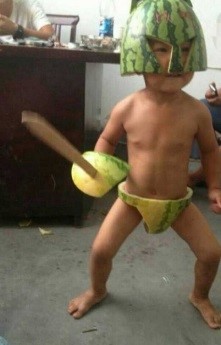 – Turn your kids into watermelon ninjas. I stumbled across the photo on the right years ago, and it still makes me chuckle. I sure wouldn't want to run into that kid in an alley!
– Dig in the old-fashioned way. I adopted the old half-a-melon-and-a-spoon method from my grandfather, and it's still the easiest, most satisfying way to enjoy my favorite fruit.
– Get fit – with watermelon! It's never too late to get healthy, and what better way to do so than with the nutritious watermelon? Nutritionist Elizabeth Somer has some great insight about its many health benefits and how to stay healthy.
– Carve it out. If you hurry, you can still submit your carved creation to the 2015 Watermelon Carving Contest (it ends at 11:59 p.m. tonight!).
 UP NEXT: This month's prize