April 23rd, 2014 by The Watermelon Guy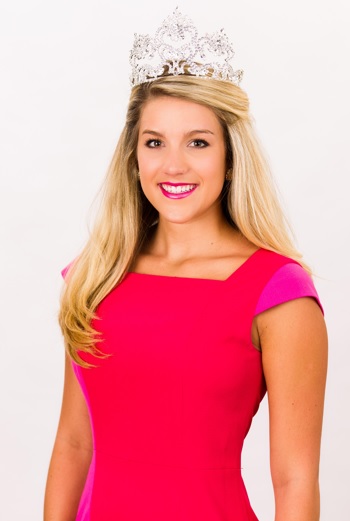 Each year, I have the pleasure of interviewing the new National Watermelon Queen, and even though they're all very different people with different backgrounds, they all have one thing in common: They're all very passionate about watermelon.
This year's queen is no different. Her name is Brandi Harrison and she was the reigning 2013 Florida Watermelon Queen before earning the national title at the National Watermelon Association's (NWA) 100th annual conference in February in a competition against several other state and regional queens. Brandi also earned the title of "Miss Jubilee" – the NWA's equivalent of "Miss Congeniality" – as voted by her fellow competitors.
Brandi recently graduated from Florida Gulf Coast University majoring in Communications. Over the next year, her royal title will keep her very busy, as she travels the country representing watermelon at all sorts of events. In between some of those events, Brandi took some time to answer a few questions about new role.
SO YOU'RE THE QUEEN OF AN ENTIRE NATION OF WATERMELON LOVERS. HAS IT SUNK IN YET?
No! I still feel like I am living in this fancy world. To be honest I can't believe this will be my life for the next year, but it is! I feel blessed and honored to represent an industry that means so much to me. I am so excited to begin another year where I am able to travel, meet new people and eat lots of watermelon!
NOW THAT YOU'RE QUEEN, WHAT'S THE BIGGEST CHANGE YOU'D LIKE TO MAKE DURING YOUR REIGN?
That's a tough question because the National Watermelon Association and the National Watermelon Promotional Board already do an amazing job getting the word out about watermelons. This industry is already so creative and innovative about promoting watermelons, it's difficult to think about what I would change.  I hope to be able to connect more through social media and blogging, and share my watermelon story with fellow watermelon lovers. I feel both of these social media outlets could do that through our queen program.
EVERY WATERMELON QUEEN HAS SOME SORT OF BACKGROUND TIE TO WATERMELON. WHAT'S YOURS?

I grew up in the small town of Newberry, Florida and every year we would have an annual watermelon festival. I remember the Florida Watermelon Queen and National Watermelon Queen visiting our little festival and joining in all the fun. The queens were just as beautiful as the crown and I dreamed of being a "queen" one day. As I got older that crown became a symbol of opportunity to represent my community as well as the economic value that the watermelon industry brings to Florida.  Being able to represent a community of people who have always been a part of my life is such an honor.  Those in the agricultural industry feed the world and to be a small part that brings recognition to those who work so hard is truly an honor.

WHAT PART OF BEING WATERMELON QUEEN ARE YOU MOST LOOKING FORWARD TO?

Meeting and connecting with people! I love hearing people's stories about watermelons and being able to relate to them on a personal level.

IS THERE A LOT COMPETITION AMONGST THE NATIONAL QUEENS OF VARIOUS INDUSTRIES? LIKE HAVE YOU MET THE NATIONAL POMEGRANATE QUEEN AND THINGS WERE REALLY TENSE AND AWKWARD?

I have not met another national queen of a commodity but I have met regional queens and we always have funny stories to tell one another. If anything, it's nice to meet someone who is as passionate about a fruit or vegetable as I am about watermelons.

DO YOU HAVE ANY TIPS FOR THE GIRLS OUT THERE WHO WOULD LIKE TO BE A WATERMELON QUEEN SOMEDAY?

Yes! Always be yourself and, most importantly, be passionate about watermelons! When you're passionate about what you do, it's fun and enjoyable.
Tags:
2014 watermelon queen
,
Brandi Harrison
,
florida watermelon queen
,
national watermelon queen
Posted in
General
|
2 Comments »