August 5th, 2009 by The Watermelon Guy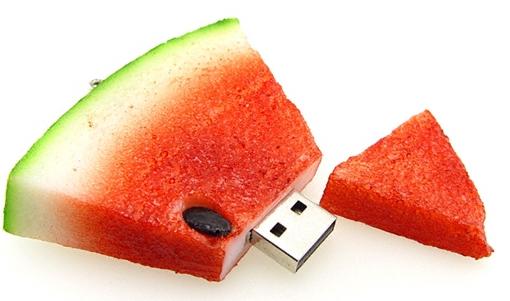 I don't use flash drives, but if I had a watermelon flash drive like the one above, I'd probably use it every day. I'd be putting files and photos on it from work and taking them home with me for no reason at all. Just because I can and because I have a cool watermelon USB flash drive.
The drive above contains 8 gigabytes of memory, which is quite a bit compared to the flash drives of yesteryear. Within this little slice of Crimson Sweet, you can store 2,000 songs (that's like 130 albums!), 7,000 photos, or 8 hours of video. Not too shabby. As always, I'll give this USB drive away to one commenter chosen at random at the end of the month. Good luck, and start thinking about what you're going to store on this bad boy.
UP NEXT: Put your spittin' skills to the test
Tags:
flash drive
,
technology
,
Watermelon
Posted in
General
|
14 Comments »