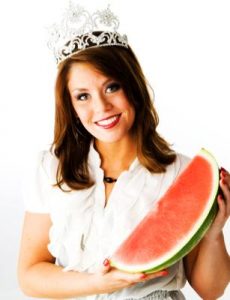 Each February, the National Watermelon Association hosts its national conference, which is attended by pretty much everyone in the watermelon industry. This year's conference was held in Charleston, SC, and the highlight of the event was the crowning of the 2009 National Watermelon Queen, Maggie Bailey.
That's right, there's a National Watermelon Queen. And it's not easy becoming the face of the watermelon industry. Each of the nation's eight regional watermelon queens compete for the national title, and are judged based on their poise, personality and knowledge of watermelons.
Maggie is from Vincennes, Indiana, and is currently studying elementary education at Indiana State University. During her tenure as queen, Maggie will travel the nation and represent the watermelon industry at state fairs, conventions, trade shows, festivals and in-store events.
To help everyone get to know the National Watermelon Queen a little better, I recently interviewed Maggie via e-mail. As you would expect, she was more than willing to share her enthusiasm for America's favorite fruit.
What inspired you to become a watermelon queen?
I'm from a very agriculture-rich community where homegrown fresh produce, especially watermelon, is close to heart.  The watermelon industry entailed so many respectable qualities and characteristics that I wanted to represent.
I noticed on your bio that you're studying elementary education. Does that mean you'd like to be a teacher some day?
I'm very passionate about this field of study and that is why I chose it as my educational focus.  Of course, I cannot wait to be a teacher some day!
Will you incorporate watermelon into your classroom lessons? You know there are lesson plans for teachers on the National Watermelon Promotion Board's website, right?
Absolutely. Watermelon and its nutritional, economical, and convenience benefits are something that I will always advocate.  I have been privileged to visit elementary classes and have used some of the lesson plans that are offered on NWPB website. They are great!
I know you've only been queen for two months, but what's been the highlight of your reign so far?
The highlight so far has been my continuation in representing the watermelon industry by spreading the news to consumers of endless benefits of watermelon and how big a part it plays in the American economy.
Has anyone ever asked you to autograph a watermelon?
That is something that I have not encountered yet, but I would put my stamp on any watermelon proudly!
The summer must be very busy for you, right? Can you give us a sneak peek at what the next four or five months look like for the National Watermelon Queen? 
The summer will be a whirlwind of hard work and fun.  There is much work to be done during season for all facets of the watermelon industry.  I am so excited for all of the promotions!  Just a few of the events the National Watermelon Association (NWA) is looking forward to include a nationwide Six Flags seed spitting competition where ESPN will be there to broadcast live, the Indianapolis Kroger Busch races, and the airing of the watermelon segment with the nationally syndicated Mr. Food show on July 1st.
Once the summer mayhem is over we will be visiting Washington D.C. to lobby at the nation's capitol and traveling to California for the biggest food show in the world (the Produce Marketing Association show), just to name a few.
Wow, who knew being National Watermelon Queen would keep you so busy! Would you be willing to share some of your adventures as a guest blogger here on What About Watermelon?
Of course!  Although it's only been two months since my crowning it has been a very busy two months, especially April.  Kicking off the year with the new state queens was amazing.  The National Watermelon Promotion Board queen training was hosted in Ft. Lauderdale, FL this year with Mr. Food and Miss America 1999, Nicole Johnson.  After returning from Florida a day later we flew out to Las Vegas for the United Fresh convention.  From Vegas we visited Bentonville, Arkansas for a Susan G. Komen Walk for the Cure event.  Each year is more and more promising for the watermelon industry due to the growing success and pay off of everyone's hard work.
Any tips for aspiring watermelon queens out there?
If you have the skill and work ethic to learn about this commodity and be passionate about selling it, you should definitely think about becoming involved in this industry.  This industry is a family and the individuals entrust their queens generously with their hard earned money to keep the queen program alive.  While being a watermelon queen entails many responsibilities, the honor is something that you cannot replace with anything else.
Thanks again for talking with us, Maggie. Good luck this year, and we look forward to hearing more about life as watermelon royalty!
It's been fun!  Thank you for thinking of me and don't forget to enjoy heart healthy watermelon, the versatile snack that is practically a multivitamin in itself!