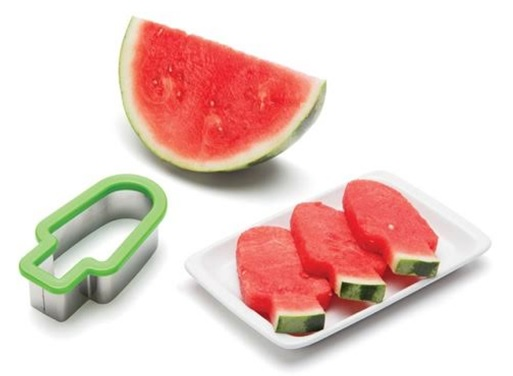 September is typically when summer comes to a close. While I refuse to let summer die until I'm standing in six
inches of freezing snow, I can see why people consider it to be summer's last hoorah. It's the dreaded time when kids go back to school (or the much-anticipated time, if you're a busy parent), the fresh summer breeze turns to crisp autumn air, and the watermelons are replaced by pumpkins in the produce bins.
However, if you're like me, you'll keep summer alive all year round with this awesome pop-out cutter ($12), designed by Avihai Shurin for online retailer, Monkey Business. It looks like a cookie cutter – which I guess you could use it for – but instead of cookie dough, you use the cutter to form hand-held pops made out of watermelon!
Leave a comment on this blog post about what you'll miss most about summer, and I'll choose one at random as the winner of this pop-out cutter.
UP NEXT: Busting watermelon myths (or not)