October 11th, 2010 by The Watermelon Guy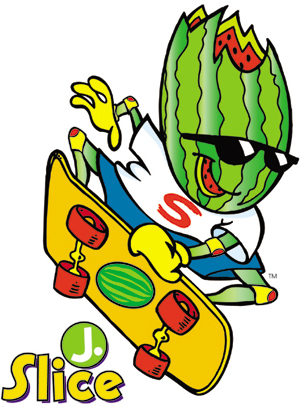 Recently, not one but two readers e-mailed me to ask about the story behind J. Slice and what the "J" in his name stands for. For those who don't know, J. Slice is the skateboarding cartoon character designed to educate kids about the benefits of eating watermelon. He was created by the National Watermelon Promotion Board (NWPB) and is a member of our "Ask the Experts" panel.
According to the folks at the NWPB, J. Slice was developed using feedback from focus groups made up of adults who have daily interaction with the youth market and elementary school-aged children. The response was very positive by both groups who felt the character represented the energy and vitality of a healthy lifestyle that includes eating lots of fruit and vegetables, especially watermelon.
As for the "J," that part of his name is a little more of a mystery, but a friend at the NWPB speculates that it stands for "juicy" as in "Juicy Slice." That makes way more sense than "Joe," which was my first guess for the name behind Mr. Slice's first initial.
Tags:
j slice
,
Watermelon
Posted in
General
|
Leave a Comment »