March 4th, 2015 by The Watermelon Guy
Each March, I get excited when I see one or two tulips poking out of the ground in my front yard. Now multiply that excitement by 30 million, and that's the Epcot International Flower and Garden Festival (which features 30 million blooming flowers).
The annual festival is held each year at Disney's Epcot theme park in Orlando, Florida. It's also one of the highlights on the National Watermelon Promotion Board's (NWPB) annual events calendar. Of course, it helps that the NWPB is also located in Orlando. Can you imagine living in the same town as Disney World? I can't.
Here are a few flowery facts about the Flower and Garden Festival, which runs from March 4 through May 17:
30 million blooms
240 floating flower planters
700 gardens
100 Disney character topiaries
30 flower towers
It takes a full year and 400 Walt Disney World horticulturalists to prepare for the 75-day festival. And just in case you think the festival is all about flowers, think again. The festival includes 11 "outdoor kitchen" kiosks, with each one serving up a variety of amazing meals.
One of those kiosks is called "Florida Fresh," and it features a watermelon salad made with watermelon, pickled onions, arugula, feta cheese and a balsamic reduction. That's a picture of the legendary salad below. Now, if you'll excuse me, I'm gonna research plane tickets to Orlando in March and April.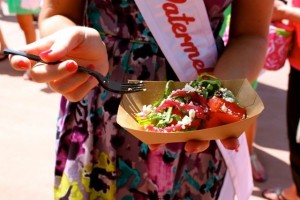 UP NEXT: Five ways to eat right during National Nutrition Month
Tags:
Disney World
,
Epcot International Flower and Garden Show
,
NWPB
Posted in
General
|
Leave a Comment »