August 12th, 2014 by The Watermelon Guy
I'm a sports fan, but I have to admit that I'm glad the World Cup is over. It's not that I don't like soccer, it's just that…okay, I don't like soccer. There, I said it. Sue me. I'm actually a huge baseball fan, and I look forward to the summer months because all the other sports – football, basketball and hockey – are out of season, which allows me to focus all of my attention on America's Pastime.
I'm not sure if the folks who work in the hospitality business down there in Brazil are happy that the World Cup is over. They saw a nice increase in business during the June and July soccer tournament, but they're finally able to relax now that it's done.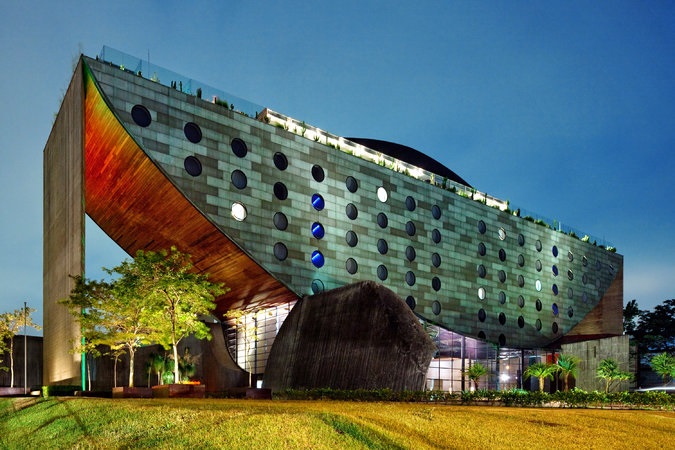 One hotel in particular in Sao Paulo, Brazil, that got its share of World Cup visitors is the Hotel Unique. Yes, that's actually the hotel's name. What makes the 95-room hotel so unique? It's shaped like a giant watermelon!
The $400-per-night hotel was actually sold out from mid-June through mid-July during the World Cup, which is a little surprising, because $400 per night isn't exactly affordable accommodations. According to a New York Times article, the hotel is known locally as "the 'Watermelon' for its striking crescent shape. Hotel Unique tries, and mostly succeeds, to be a combination of quirky and luxurious."
The funny thing is, the hotel's architect never really intended for the building to look like a watermelon wedge. He actually designed it to look like the hull of a ship, complete with little porthole windows. What he didn't realize was that the hotel's shape and green and red hues evoked thoughts of, you guessed it, watermelon. And those round, porthole-shaped windows? Those are the seeds.
As you can see below, the rooms aren't all that spacious, but you can't beat that view from the watermelon seed window!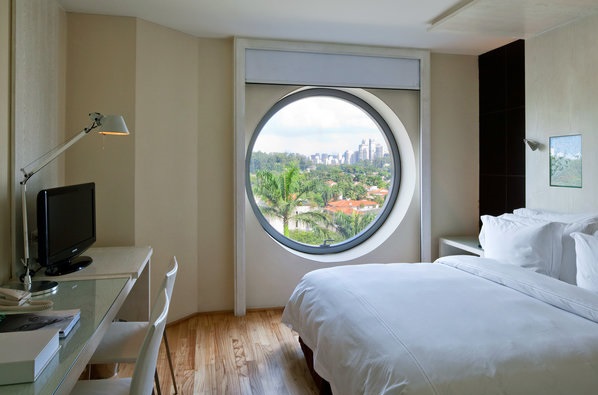 UP NEXT: I dropped my watermelon!!!
Tags:
hotel unique
,
watermelon architecture
,
watermelon hotel
Posted in
General
|
3 Comments »