If there's one thing I've learned as the father of a one-year-old, it's that babies can't eat all the stuff grown ups eat. Like chocolate chip cookie dough ice cream at 10:30 at night. Babies can't eat it! (Plus they're asleep then.) And beef lo mein takeout from the Chinese food place down the street. Babies can't eat that either. (That means more for me!)
Actually, I knew that stuff before I was a father, but the point has been reinforced since then. My daughter can eat watermelon, though. She loves it, in fact. Fatherhood has also taught me a lot about organic and nonorganic foods, which is why I've decided to repost this blog entry from last year. Enjoy!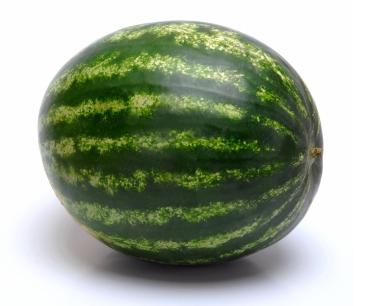 A while back I posted an entry about a bottle of 100-percent organic watermelon juice.
Like I said in a comment, a friend of mine attested that the juice was delicious, but another friend pointed out that although organic fruits and vegetables have their benefits, watermelon is virtually the same either way. In other words, even strict organic food eaters can enjoy a nonorganically grown watermelon and not have to worry about… whatever it is they worry about.
I'm not just making that up, and neither is my friend. TheDailyGreen.com credits watermelon's thick rind with helping to keep out any "bad stuff." Others cite changes in mainstream growing and chemical application practices as the reason even technically nonorganic watermelons are some of the cleanest fruits on the market.
Whatever the reason for its purity, it's nice to know that I don't have to worry about where my favorite fruit has been or whose hands have been pawing it before it makes its way into my fridge.