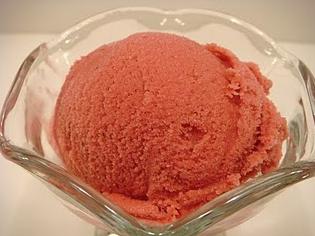 If there's one food I eat more often than watermelon, it's ice cream. At any given time, there's at least three half-gallon containers in my freezer. And even though sherbet is technically not ice cream (it's got less milk fat), I was still pretty psyched when I found this recipe for watermelon sherbet.
It's not that hard to make, either. As for how to pronounce it – "sher-bet" or "sher-bert" – I'll leave that up to you.
WATERMELON SHERBET
INGREDIENTS
4 cups diced seedless watermelon
1 cup white sugar
3 tablespoons lemon juice
1 dash salt
1/4 cup cold water
1 (.25 ounce) envelope unflavored gelatin
1 cup chilled heavy cream
DIRECTIONS
Combine the watermelon, sugar, lemon juice, and salt in a large mixing bowl; stir to coat evenly. Cover the bowl with plastic wrap and refrigerate for 30 minutes.
Blend the mixture in a blender until smooth; return to the bowl.
Pour the cold water into a saucepan. Sprinkle the gelatin over the cold water; let stand one minute. Place the saucepan over low heat; cook for 2 minutes. Stir the gelatin mixture into the blended watermelon mixture. Add the heavy cream; beat with an electric hand mixer at medium speed until the mixture is fluffy.
Transfer the mixture into an ice cream maker and freeze according to manufacturer's directions until it reaches "soft-serve" consistency. Transfer sherbet to a one- or two-quart lidded plastic container; cover surface with plastic wrap and seal. For best results, sherbet should ripen in the freezer for at least 2 hours or overnight.