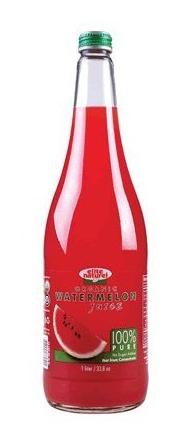 This month's prize, which I'll give away to one comment chosen at random from all the comments left on the blog in March, is the 100 percent organic watermelon juice pictured on the right. I haven't tried this juice, but I do know that the juice is one of my favorite parts of eating watermelon, so this could be pretty good.
According to the website where it's sold, this one liter bottle of heaven is made from "100% pure pressed watermelon."
So, what can you do with a bottle of watermelon juice? I guess you could pour yourself a tall glass and drink it on a hot summer day. That's the first thing that comes to mind. You could also use it to make watermelon juice ice cubes (though you could do that with pureed watermelon, too). You can also use watermelon juice in recipes. It's really up to you!
By the way, the winner of our February prize — the watermelon growing kit — is Courtney. Congrats Courtney, and thanks to everyone who left a comment last month. Keep 'em coming!