When I saw the name of this recipe, I knew I'd love it. The only thing I love more than watermelon is lasagna, and I've also been known to indulge in breakfast from time to time, so that makes this creation a culinary dream come true for me.
The National Watermelon Promotion Board website describes this recipe as "an easy breakfast in 1-2-3," which is good because my morning often allows only enough time for coffee.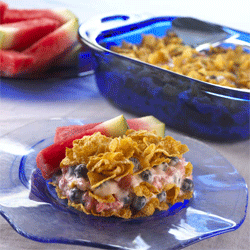 WATERMELON BREAKFAST LASAGNA
INGREDIENTS
4 cups cornflakes
2 cups minced watermelon
2 cups fresh blueberries or sliced strawberries
2 cups vanilla yogurt
DIRECTIONS
Place 1/3 of the cornflakes in an even layer in the bottom of an 8 X 8 serving dish. Mix together the watermelon, blueberries and yogurt and spoon half of it over the cornflake layer evenly. Sprinkle another layer of the cornflakes over the yogurt and then layer the remaining yogurt over that. Sprinkle the remaining cornflakes evenly over the top.