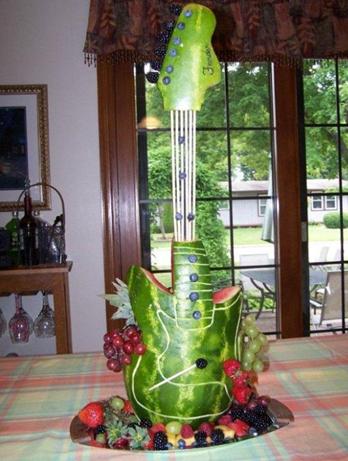 National Watermelon Month (yes, July) is less than 48 hours away and what better way to celebrate America's favorite fruit than with a watermelon carving? That's why I'm happy to announce the official start of the second annual National Watermelon Carving Contest.
Just like last year, it's pretty simple. So simple in fact, that I've lifted some of the explanation from last year's blog entry and posted it below in hopes that you wouldn't notice I was using an old blog entry, except I just told you, so never mind.
All you need to do, between now and August 31, is send me photos of your  best watermelon carving. Tips and ideas for carvings (feel free to make one of these) can be found on the National Watermelon Promotion Board website. At the end of August, I'll choose the four best carvings and post them here on What About Watermelon for a public vote in early September.
Entries will be accepted in two categories: watermelon baskets and "other stuff"(like last year's awesome winner pictured above). The winner of EACH category, as determined by the votes of watermelon fans across the nation, will receive the ultimate watermelon carving package, consisting of a John Boos maple cutting board, the Kuhn Rikon melon knife (that's it above – how cool is that thing?) and the Grassland Roads Backyard BBQ Watermelon Plate. Good luck, and don't forget to follow rule #4 below!
SEMI-OFFICIAL RULES
1. All carvings must be original creations, carved either by the person submitting the entry or with a little help from friends and family.
2. All entries must be accompanied by at least TWO photos: One photo of the finished carving (a few photos from different angles is preferred) and one photo of the finished carving with the person submitting the entry. This part is important, so don't forget to get both photos!
3. All entries must be emailed to [email protected] before midnight on August 31.
4. Have fun! This part is also important. It doesn't matter what your finished carving looks like; just send the picture, because it might be one of the final four chosen by me or given an honorable mention here on the blog!