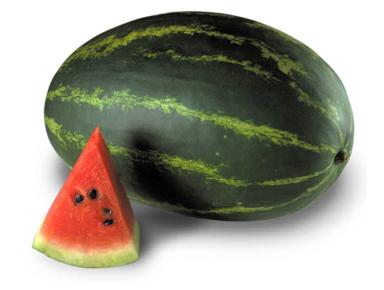 How busy were the holidays for me? I'm still catching my breath and cleaning up wrapping paper, if that's any indication. Also, I still haven't taken down our Christmas tree. That's saying a lot because, in most years, the tree is usually gone before dinner on the 26th.
But it's a good kind of busy, I guess, and we still have one holiday left – New Years. Now that we're proud parents, our New Year celebration usually involves trying to stay awake long enough to watch the ball drop on TV and hoping our raucous game of Scrabble doesn't wake the little one.
Some of you, however, might have more adventurous plans for ringing in the New Year, which brings me to the focus of this blog entry. Did you know that watermelon has been featured on multiple lists as one of the best "hangover foods." Those foods are, of course, the best meals to eat the morning after a particularly "busy" night on the town.
According to the Times of India, which ranked watermelon at the top of its hangover cures list, the magical melon works because it delivers two key components – water and nutrients – both of which your body needs after you've had one too many drinks.
Of course, the BEST cure for a hangover is not to over indulge in the first place, but if you're going to have a few drinks, it might be a good idea to make sure you have some watermelon in the refrigerator for breakfast the next morning.