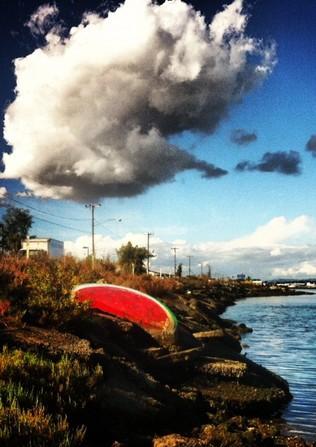 There's a mystery brewing in Alameda, California. It seems someone in the community, which is located on an island in San Francisco Bay, loves watermelon so much they decided to paint a large rock to resemble a giant slice of watermelon.
Alameda Magazine writer Mary McInerney had this to say about the beloved fixture, which has its own Facebook page with more than 130 fans:
Painted on a large half-round piece of concrete that was dumped there to bolster the shoreline sometime after World War II, the watermelon rock has been a fixture on the waterway between the Oakland International Airport and Alameda for at least 30 years now.

It's a folksy reminder that you're almost home to Alameda, if you're coming back from Costco or San Leandro. Kids like to make a game of it: Who's the first in the car to spot the watermelon rock?

No one is quite sure who painted the rock and no one has stepped forward to take credit. Some have complained, however, saying the rock is an eyesore. About five years ago, a few days after a formal complaint was made with the local park, someone painted the rock black seemingly overnight.
A few days later, the rock was repainted to resemble an orange wedge. Only a few days after that, it was repainted once again, this time returning it to its original watermelon wedge color scheme.
So who's responsible for painting the rock and giving it a periodic touch-up when the hot California sun fades its colors from red to pink?
Popular theories range from it being the work of mermaids to the creation of a local fraternity who's taken it upon themselves to maintain the local landmark. Either way, the Alameda Watermelon Rock is there to stay and, if you ask me, that's pretty sweet!