I love to grill. Burgers, hot dogs, chicken, fish, even watermelon and veggies. If it can be cooked over an open flame, chances are I've grilled it. I'm a humble griller, too. Even though I love to fire up the barbeque on a regular basis, I'm not one of those guys with a fancy $1,000 grill with four side burners and a kitchen sink. Nope, my little tailgating grill suits me just fine.
This month's carving – the watermelon grill – combines my love of grilling with my love of watermelon. Here are step-by-step instructions for creating the "grill-melon" I assembled.
MATERIALS
One small, round watermelon
12-15 shish kebab skewers
three stalks of celery (4-6 inches long)
One grill lid handle
Blackberries (for briquettes) and assorted fruit (if creating shisk kebabs for the finished grill)
Start your watermelon grill with one very round watermelon. The rounder, the better. In addition to being very round, your watermelon should also be very clean before you cut into it. To do this, give it a rinse in the sink or, if you want to conserve water, take it into the shower with you.
Cut off roughly 40 percent of the top of the watermelon. This slightly smaller half will become the top of your grill. The bottom half will become – you guessed it! – the bottom of your grill. Next, hollow out both halves, setting aside the watermelon flesh. (NOTE: These round "baby" watermelons have very thin rinds, so be careful not to scrape too deeply when hollowing it out.)
Place six or seven skewers through the top portion of the bottom half of your watermelon (about an inch apart) to create the "grilling surface" part of the grill-melon. Push the skewers through the watermelon so that the pointy ends are flush with the fruit's outer surface. Use a pair of wire cutter pliers to snip off the ends of the skewers that are sticking out of the watermelon half's other side.
Next, install a handle on the top part of the watermelon (the grill lid). Where will you find a handle? You might find one at a hardware store. You might also decide to just remove the handle from your real grill and reinstall it later. I did neither of these things – my grill was handleless – but if you're carving your grill to wow some guests, you won't want to skip this step.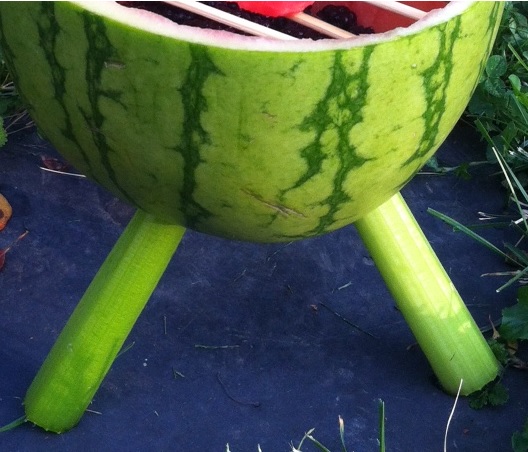 Your grill also needs three legs. That's where the celery stalks come in. Chose three thick and sturdy stalks, each about six inches long, and affix them to the underside of your grill. If you use skewers, make sure the skewers are inserted an inch or two into the celery stalks to give them extra stability.
All that's left to do now is place your lid askew on the top of the grill (using skewers like you see in the photo above), throw some blackberries in the bottom portion to serve as briquettes, and assemble your fruit on the grill. You can use skewers of assorted fruit to create fruit kebabs or carve tiny burgers out of watermelon flesh like I did. And there you have it – one watermelon grill that will make a nice centerpiece for your next summer barbeque!