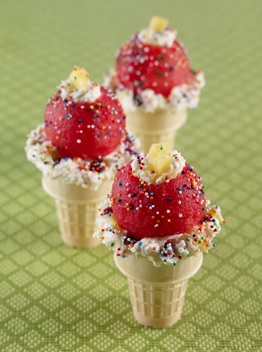 Summer is drawing to a close (boooo!!), but that shouldn't stop you from enjoying an ice cream cone now and then, right? In the case of today's recipe, you can also make a watermelon "ice cream" cone.
And, to help give summer the sendoff it deserves, you can make this recipe to celebrate National Ice Cream Cone Day coming up on September 22.
This recipe is kid-friendly (no drippy ice cream!), and you can top it with pretty much anything you'd like. You can use sprinkles, pineapple chunks, chocolate chips, a drizzle of chocolate syrup or coconut flakes. Which topping would you use?
WATERMELON ICE CREAM CONES

INGREDIENTS
8 ice cream cones
8 tablespoons of pineapple cream cheese frosting
1/2 cup dried craisins
1/2 cup vanilla yogurt
8 scoops of seedless watermelon (use an ice cream scooper)

INSTRUCTIONS

Place a tablespoon of the frosting into the bottom of each cone. Divide the craisins over the frosting. Top the craisins with the yogurt. Place an ice cream scoop of watermelon on top of each cone and serve. Finish with toppings of your choice.
For more recipes using watermelon, check out the "Recipes" section of the National Watermelon Promotion Board website.
UP NEXT: Silly watermelon quotes