I've got many years until I even need to think about retirement (although, it sure would be nice to retire tomorrow!), but there are some folks who happily work full-time jobs well into their golden years. And not because they have to, but because they genuinely love what they do and have no interest in giving it up.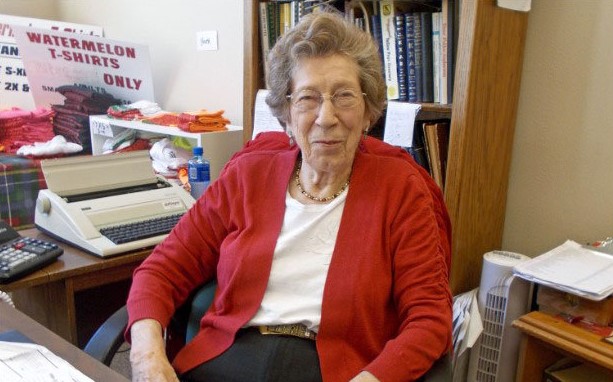 Novalene Slatton is one of those hard-working members of what Tom Brokaw refers to as "The Greatest Generation." Novalene is 90 years old and has been working at the Hope-Hempstead County Chamber of Commerce for more than 20 years. Novalene answers phones for the Chamber of Commerce three days a week and says one of her favorite tasks is raising funds for Hope's annual watermelon festival.
The money she earns from her job is put to good use, too. She contributes to savings accounts for her three grandchildren, each of whom are in college or recently graduated. Said Novalene in a Yahoo! news article about her work, "I just don't want to stay at home by myself and look at four walls. So many people have retired, and then they say they're bored to death."
Keep in mind, Hope, Arkansas is a hotbed of watermelon-growing activity. In fact, the Hope-Hempstead County Chamber of Commerce website proudly proclaims the region as the "home of the world's largest watermelons."
That means Novalene knows a thing or two about watermelon, especially because her husband Paul is an accomplished watermelon-grower himself. That's him and Novalene on the right with some of their impressive crops.
It's the kind of dedication and determination that we admire in Novalene and that makes her a top choice for one of the most loyal watermelon enthusiasts.
UP NEXT: A Thanksgiving salad like no other