Who says lobster tacos are only for summer? With this delicious new spin on the fish taco craze, these Jamaican Rock Lobster Tacos are a must-have all year round. Perhaps your New Year's Resolution is to cook with more watermelon or establish healthier eating habits. If so, you're in luck with this recipe.
Lobster, among other shellfish, is reported to be a healthy way to consume protein and other important nutrients. Rich in omega-3 fatty acids, this helps to lower the risk of heart disease. It's also low in calories and fat and contains high levels of Vitamins A and B.
Not that you needed yet another reason to dig into these tacos. You know, other than that fact that they contain lobster and watermelon.
JAMAICAN ROCK LOBSTER TACOS
INGREDIENTS: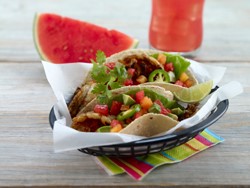 2 cups watermelon, cut into ½ inch cubes
4 tails rock lobster tails, cooked
2 avocados, peeled, cut into ½ inch cubes
2 papayas, cut into ½ inch cubes
½ cup cilantro, fresh, coarsely chopped
½ cup fresh lime juice
1 tablespoon jerk seasoning
1 dash salt and pepper to taste
1 head iceberg lettuce
1 ounce shredded coconut
INSTRUCTIONS:
Cut tails in half lengthwise, remove vein, cut into ½-inch slices. Combine lobster with watermelon, avocado, papaya and cilantro. Pour lime juice into small bowl and slowly whisk in. Pour over lobster mixture and refrigerate one hour, stirring occasionally. Place in soft taco shells on a bed of shredded lettuce. Sprinkle with coconut.
For more recipes using watermelon, check out the "Recipes" section of the National Watermelon Promotion Board website.
UP NEXT: A wild "Caption this Photo" challenge