Earlier this month, I introduced one of our newest blog features, "Lights, Camera, Watermelon!", which takes a look at the latest in watermelon videos. Now I'm happy to introduce our second new feature, "Watermelon Snapshots."
For this one, I'll sift through droves of selfies, memes and retro-filtered photos on Instagram to find the best watermelon snapshots the Internet has to offer. Here are my top five selections for January!
For being totally adorable and inside a watermelon, this kid doesn't look too thrilled. Maybe he's going for that "I'm cute, but I'm bad" vibe. (Image via @funnybabydaily)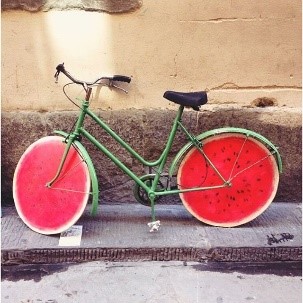 You know what? Even though this is technically a "girl's bike," I'd still proudly ride this two-wheeled ode to watermelon around my neighborhood. (Image via @llaollaonuh)
It's the ultimate test of love to get a tattoo of someone or something on your body, which is why I could totally see myself getting this slice of watermelon ink for myself. The only question is, where would I put it? (Image via @kiara_marshmellow)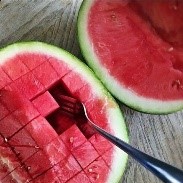 Looking for an easy and nutritious snack? Fitspiration_goalss shows us a nifty little trick to cut squares right from the rind. Because who needs a bowl when you have a watermelon? (Image via @fitspiration_goalss)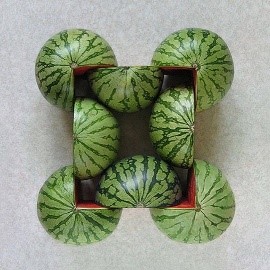 This optical illusion is making me very, very hungry. Wait, isn't that hypnosis? Maybe it is. Either way, I'm still hungry. (Image via @futuristufuk)
Stay tuned for next month's Watermelon Snapshots. If you see any fun watermelon photos online, leave a comment with a link, or upload your own watermelon photos, along with the hashtag #watermelon, for a chance to have your photo featured here on the blog!
REMEMBER: All comments left on the blog this month are entered to win our January prize — the watermelon backpack — so comment as often as you'd like!
UP NEXT: OUR FEBRUARY PRIZE