I saw someone deep fry watermelon and I wondered if I could make this Pan Fried Watermelon Bites Recipe in a skillet. I am not a fan of deep frying and having to dispose of all that oil, so I prefer shallow frying in a non stick skillet. This worked so perfectly, even I was surprised! Let me show you how I made it.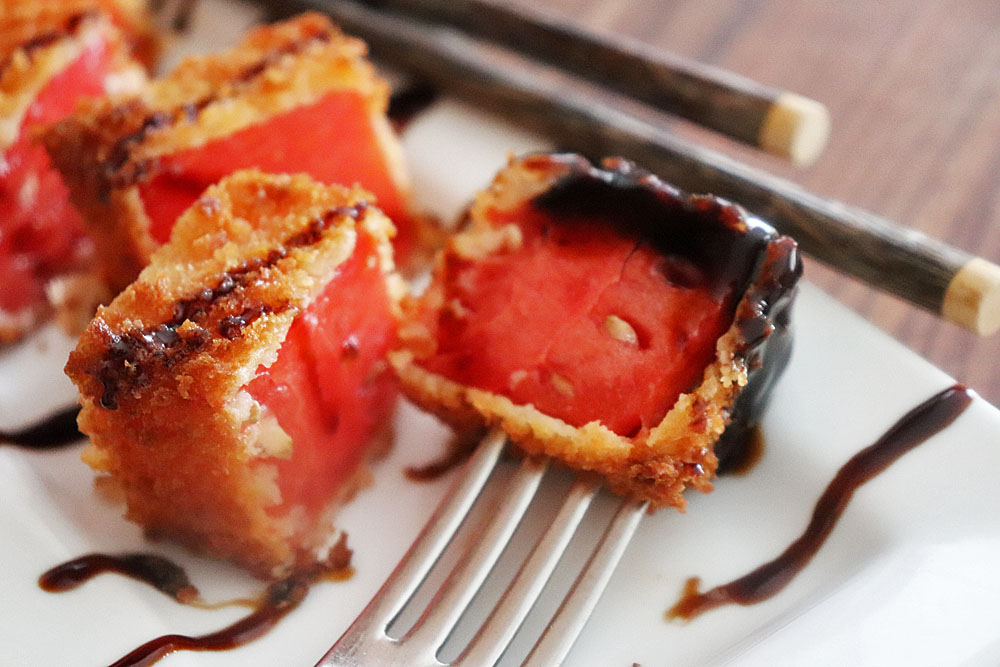 How to cut the watermelon
For ease of cutting, I am using a small, personal sized watermelon. I made a thick slice in the center of the melon, square it off and cut into three evenly sized logs as shown below. I place onto paper towels to remove excess moisture. Oil and water do not mix!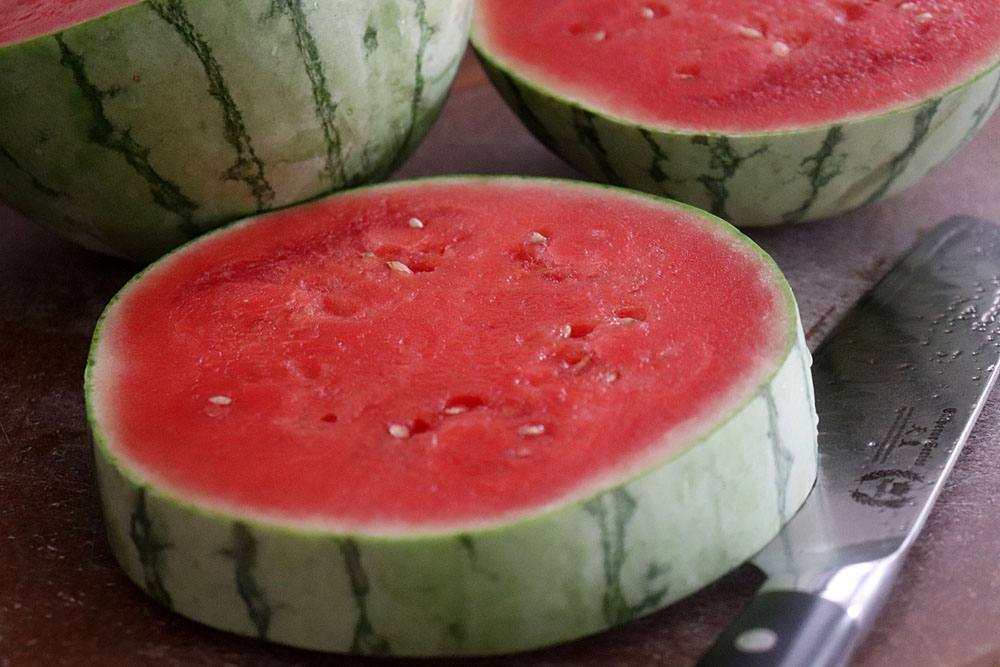 How to make my Pan Fried Watermelon Bites
I created a breading station consisting of all purpose flour on the first plate, egg and water combined on the second with a bit of salt and pepper and finally, on the third plate, panko bread crumbs.
So we'll begin by fully coating the watermelon in all purpose flour. This step is really important and anywhere there isn't flour, the egg wash will not stick! From the egg coating, go straight into the panko bread crumbs.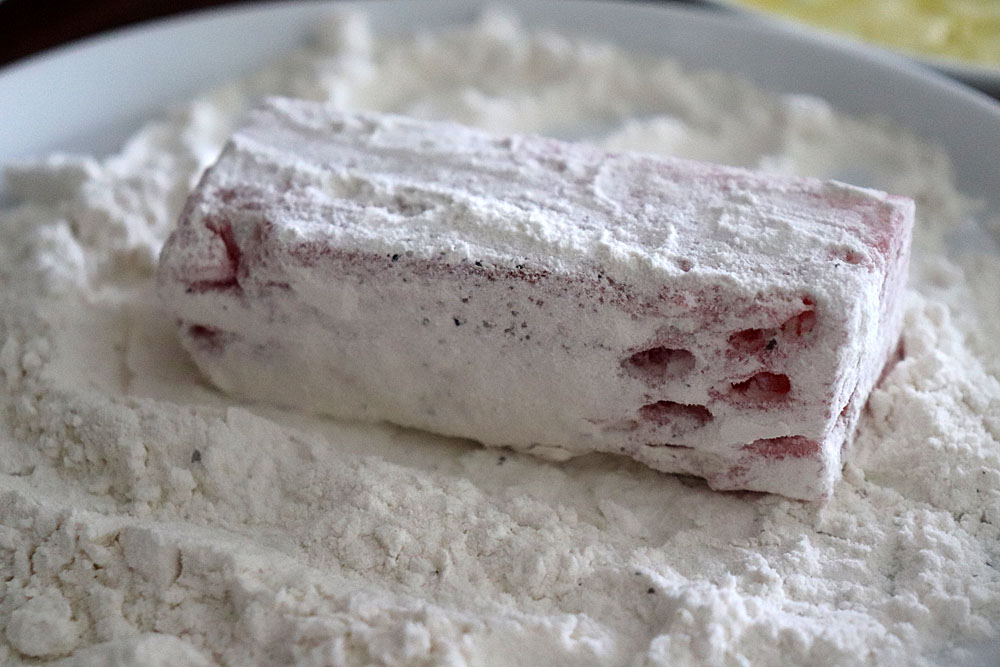 Preheat a non stick skillet over high heat and add vegetable or other neutral flavored oil. Gently place the watermelon log in the oil. Be sure to brown all sides (including the ends). Tongs really help as does tilting the pan slightly to pool the oil.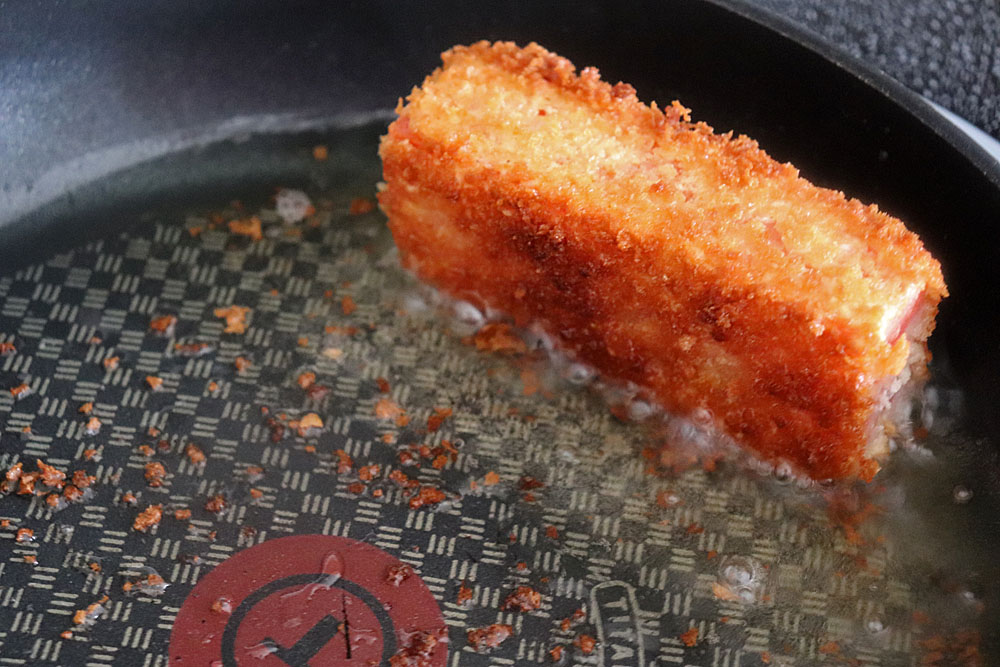 Remove the browned watermelon log to paper towels to drain any excess oil. This will allow the breading to crisp up.
How to plate my Pan Fried Watermelon Bites
Slice with a serrated knife and place onto your desired plate. I really love this long rectangle. You can use chopsticks or a fork. Personal preference.
I just love how well that breading sticks to the watermelon.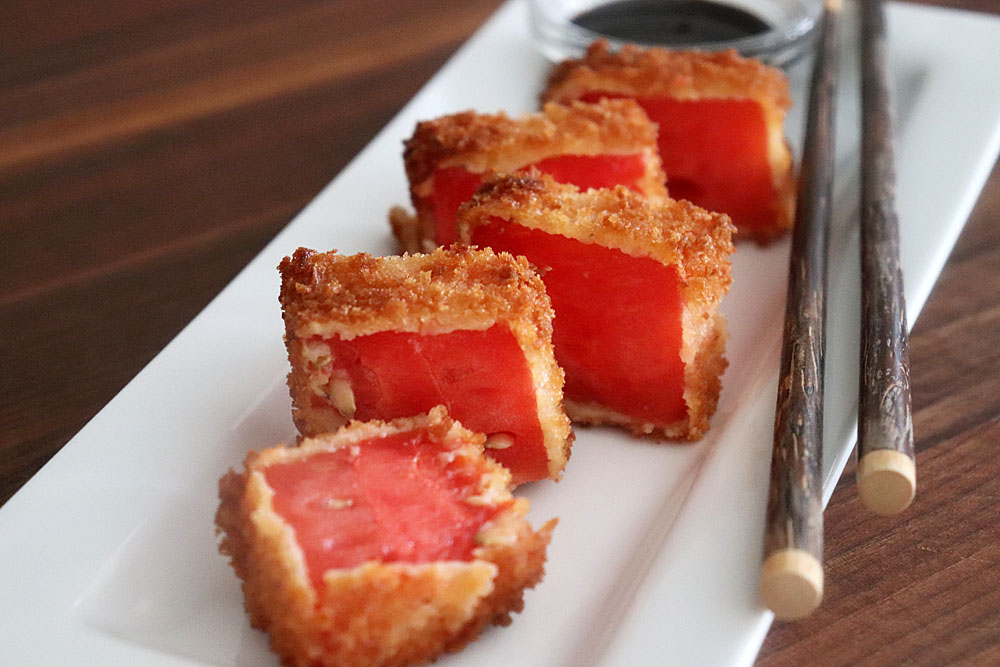 I am using this balsamic glaze as a drizzle but also provide each guest with a small bowl for dipping.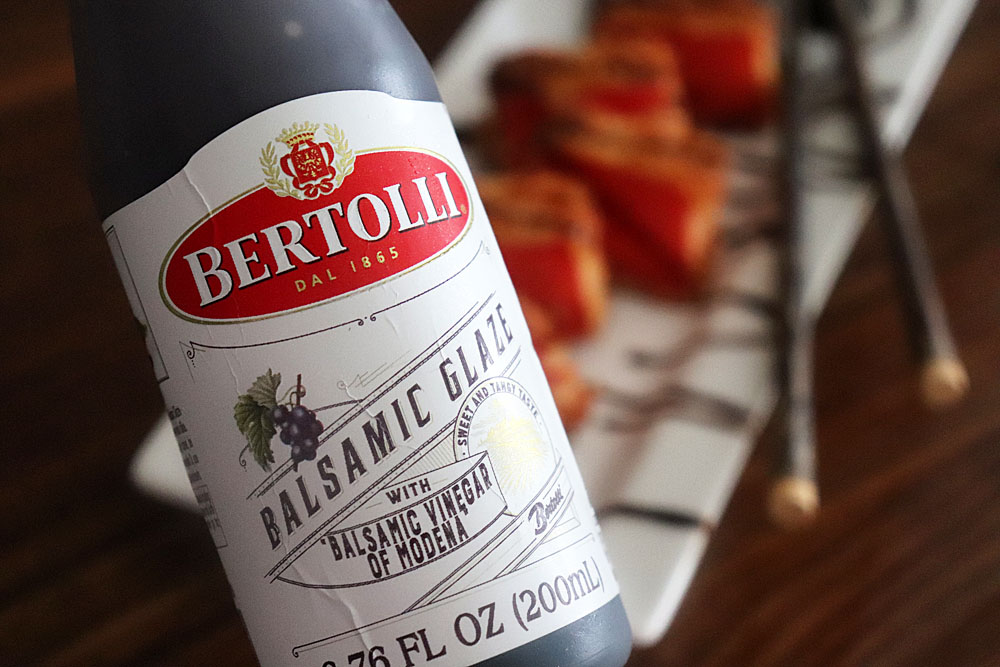 Doesn't that look amazing? I assure you, this one is a show stopper. I was really pleased with how it turned out.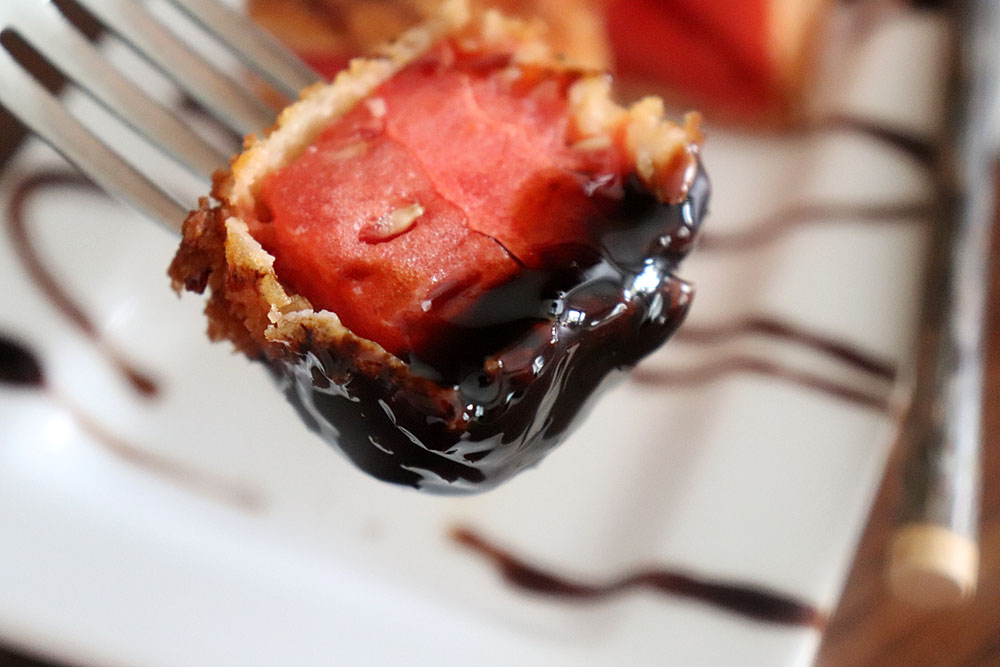 Did you make my Pan Fried Watermelon Bites Recipe? Leave a comment below and let me know what you thought.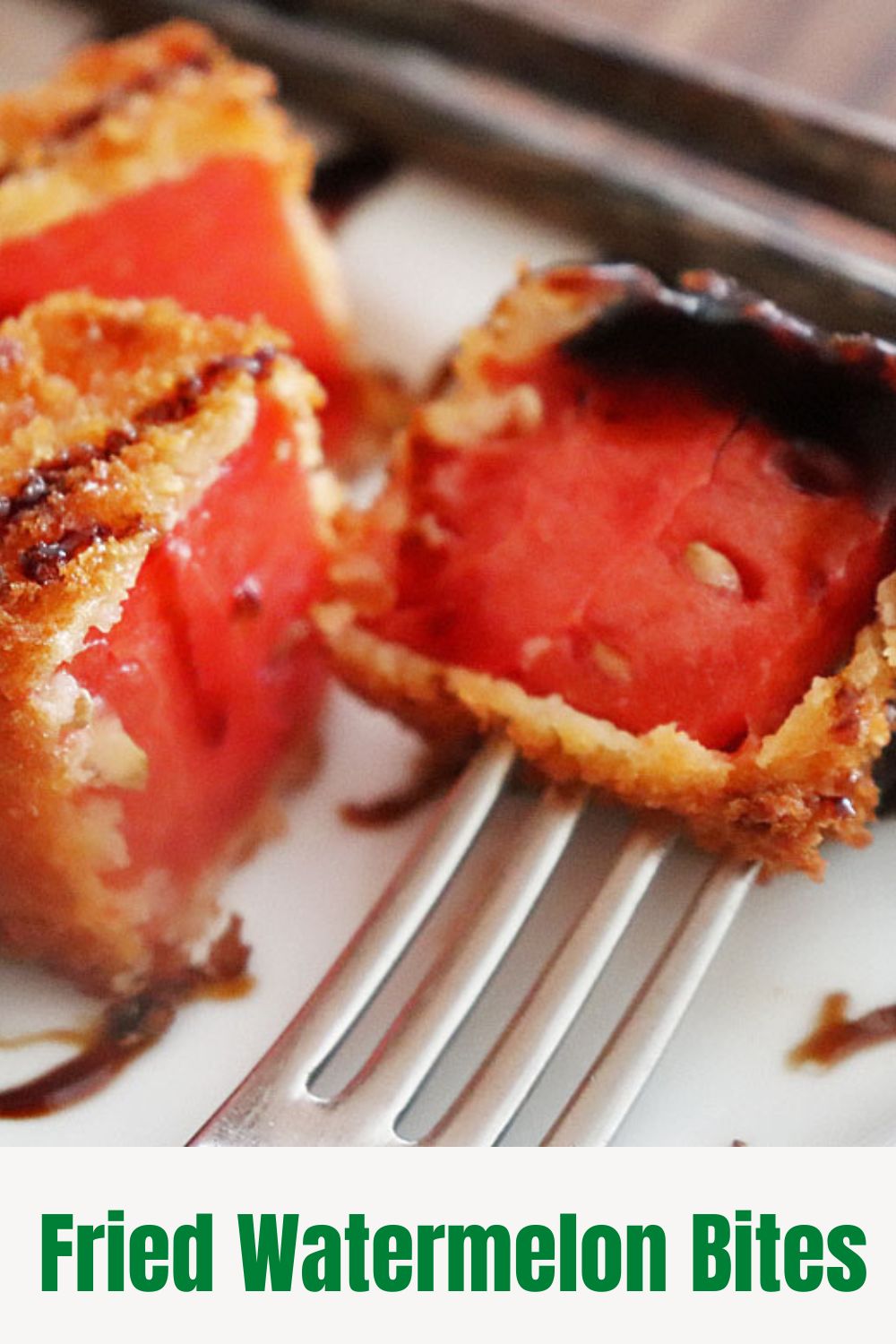 Preparation Time:
Equipment Required:
Sharp Knife for cutting the melon
Serrated Knife for slicing the fried watermelon logs
Non Stick Skillet
Tongs
Ingredients:
Watermelon, cut into long rectangular logs
1/2 cup All Purpose Flour
1 Egg+ 1 tbsp Water, beaten
Salt and Pepper, to taste
1/2 cup Panko Bread Crumbs
Balsamic Glaze for drizzling and dipping
Oil, for frying
Method:
Slice watermelon into a thick steak and remove the rind, squaring off the edges. You should have a rectangular shaped log.
Create a breading station. One plate with all purpose flour, one with the egg and water mixture (salt and pepper added) and finally, one with panko bread crumbs.
Fully coat the watermelon log in flour, then egg mixture and the panko bread crumbs.
Heat a non stick skillet over high heat and add oil.
Fry each side of the bread crumb coated log until golden (including the ends) and place on paper towels to drain.
Using a serrated knife, slice into thick squares and place onto yours serving plate.
Drizzle with balsamic glaze. I like to add a small bowl for dipping.
Use chopsticks or a fork, whichever you prefer.
Enjoy!