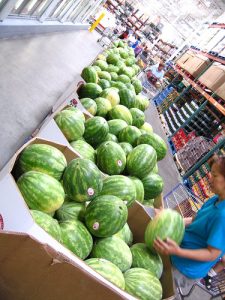 As far back as I can remember, my mother would cut up watermelon to serve at backyard barbeques during the hot summer months. I'm telling you, there was nothing better than a cold slice of watermelon in July.
Today, watermelon is enjoyed year round, but a lot of people still associate it with a spring/summer type of food. I'm not sure why. It tastes just as good on a cold winter day as it does on a warm spring day! And don't even try to say you can't find it in the grocery store in the winter. It's there!
Which leads me to our first ever poll question here on What About Watermelon: When do you purchase your watermelon? It's a pretty straightforward question. Feel free to chime in with your answer on the poll in the right hand column and leave a comment on this entry!
(UP NEXT ON "WHAT ABOUT WATERMELON?": How to buy the "right" watermelon)