There's really nothing you can't love about the name of this recipe. Watermelon? (Awesome.) Glazed? (Bring it!) Mini? (Okay, bigger is usually better when it comes to food, but let's move on.) Barbeque? (Keep talkin'.) Meatballs? (Are you kidding? You had me at "watermelon.")
Since the crock pot full of meatballs is a staple at just about any football gathering, this dish should fit right in. I can almost guarantee these meatballs would be great as part of a meatball sub. Or maybe just consumed by the bowlful while being dipped in bleu cheese dressing.
I should also mention that this recipe has only four ingredients. FOUR! And that's including the meatballs!
WATERMELON GLAZED MINI BARBEQUE MEATBALLS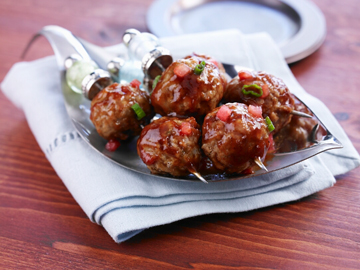 INGREDIENTS
2 tablespoons vegetable oil
24-36 frozen prepared mini meatballs
1 cup prepared barbecue sauce
1 cup watermelon puree
DIRECTIONS
Heat the oil in a large heavy sauté pan over medium high heat or electric skillet set on 325°. Sauté the mini meatballs until browned and hot. Reduce heat to low. Mix together the barbecue sauce and watermelon puree. Pour over the meatballs and simmer for a few minutes. Serve hot. Serves 6 to 8.