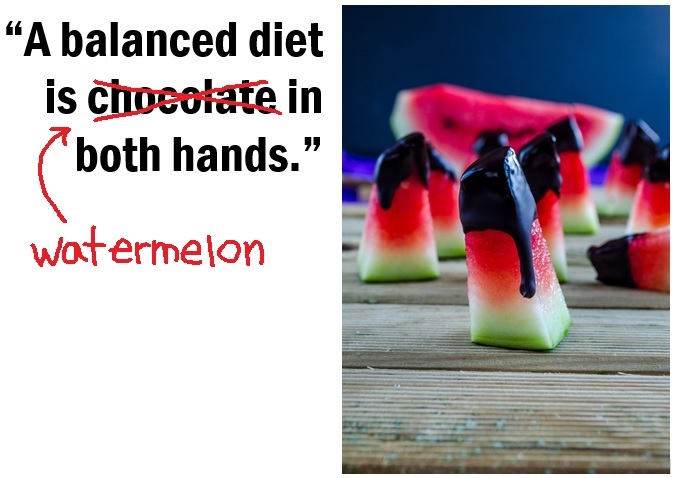 The quote in today's entry has been written in many different ways with many different types of food. Today's rendition uses chocolate, but I've seen it written with ice cream and even beer. Most of the time, the quote includes some sort of indulgent food, which is what makes the "balanced diet" claim so funny.
Even though I've changed the quote to include watermelon, it's still true – watermelon really is a key part of a balanced diet. Our own nutrition expert and registered dietician, Elizabeth Somer, sums up the case for watermelon in article titled Watermelon Wisdom:
"The more fruits and vegetables (you) eat, the lower (your) heart disease risk. Watermelon, in particular, is an excellent source of lycopene, a red pigment. In fact, watermelon has more lycopene than do tomatoes – up to 20 milligrams in each two-cup serving. Watermelon also is low or free of cholesterol, fat and sodium. Watermelon consumption (six cups) increases free arginine which maintains cardiovascular function."
Like I've written about in the past, watermelon has also been ranked number one on a list of fruits that pack the most nutritional bang for your buck. In other words, watermelon doesn't just balance your diet, it can also be used to balance your budget!