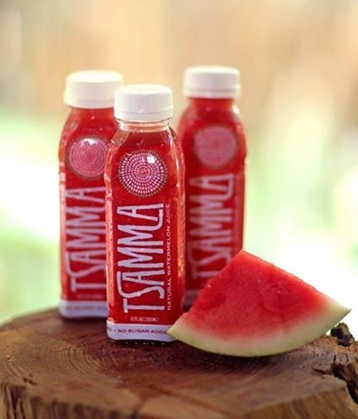 I'm a juice fan. Apple juice, orange juice, grapefruit juice, you name it. As a watermelon lover, however, I'm a little frustrated by the lack of watermelon juices on the market. Oh sure, you'll find watermelon-flavored beverages out there, but many of them only taste like watermelon, and are loaded with all sorts of other things.
So when I heard about a new product called Tsamma watermelon juice, I got excited. And when I read more about the product, I got even more excited.
Tsamma watermelon juice is 100 percent juice and has no added sugar. It's made with 95 percent watermelon juice, and uses over a pound of fresh watermelon to make each 8-ounce serving!
The juice is made by Frey Farms, which is one of the largest watermelon shippers in the United States. I recently chatted with Sarah Frey-Talley (who founded Frey Farms in 1994 at the age of 17!), and asked her a few questions about the new juice and what it's like to work side-by-side with her family.
Sarah, thanks for taking some time out of your busy schedule to talk with me! Since this is an interview about watermelon, I have to ask: Are you a chunks or wedges kind of person?
That's not really a fair question! I have millions of watermelons available to me throughout the year so I'm a bust-it-open-and-eat-the-heart-in-the-field kind of girl. However, when I slice them up at home I like the presentation of the wedge better.
You founded Frey Farms in 1994 when you were just 17! What motivated you to do something so ambitious at such a young age?
When I was a child, I would accompany my mother on a small melon delivery route. My job was to walk into the store make the sale, unload the melons and collect the cash.  I loved it so much that I decided to make a career out of it. I'm still doing what I enjoyed most as a child. That's my definition of success.
Frey Farms is actually a family business. You work alongside your brothers, and together you make it all happen. Is working with family challenging at all, or does it make it more rewarding?
Both! We all do what suits our strengths best. Working with family is definitely one way to stay in touch.

There are so many different juices in stores – apple juice, orange juice, grape juice – what's the inspiration behind a watermelon juice?
Watermelon juice is the most refreshing and hydrating juice on the market!  The inspiration for Tsamma can be directly attributed to the ingredients panels on most juices and sports drinks. Ugh! I'm just a melon farmer but even most doctors can't pronounce half of the ingredients used in most sport drinks.
The purpose of Tsamma juice is to hydrate, replenish and recover. The bonus is that it tastes amazing! It delivers key vitamins and minerals to the body, but it's very light and refreshing. Most premium juices are very thick and you tend to want to sip them, but not Tsamma. You actually drink this juice!
In case anyone is wondering, the name of the juice is pronounced "sah-mah," but how did the juice get its name?
We named our drink Tsamma to pay homage to the ancient ancestor of all modern watermelon varieties. The Tsamma melon grows wild in the Kalahari Desert and is still used as a source of hydration.
I'm sure our readers would love to buy some Tsamma watermelon juice. Where can they find it?
It's available coast-to-coast in many retailers, including Whole Foods in the Midwest, Hannaford Bros in the northeast, The Fresh Market nationally and Dollar General Market stores.
You can find it in Michigan retailers such as Family Fare, D&W Fresh Market, Neiman's Family Market, Foster's Market, Harding's Market, Glen's, Shop-N-Save Food Centers, University Foods, VG's Food Center, and Hollywood Super Market. Tsamma is also coming soon to select Walmart stores in Florida and the Midwest!