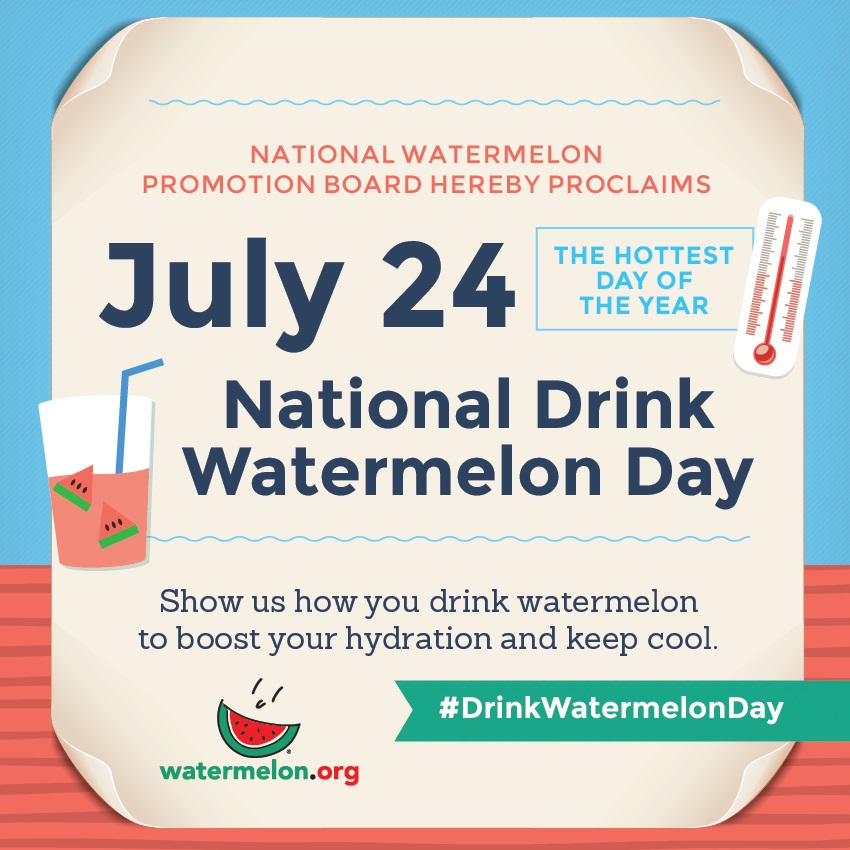 According to the National Climatic Data Center, July 24 is considered to be the hottest day of the year. And, like any day when the temperature is high, you'll want to make sure you stay hydrated by drinking plenty of liquids.
With that good advice in mind, the National Watermelon Promotion Board (NWPB) has officially proclaimed July 24 as "National Drink Watermelon Day."
How do you "drink watermelon," you ask? You can create beverages that use watermelon (check out the recipes on the NWPB website), or you can simply eat watermelon. At 92 percent water, watermelon boasts a refreshingly high water content, making it almost like a beverage you can eat! It's also rich in vitamins and antioxidants, making it a natural power drink.
National Drink Watermelon Day couldn't come at a better time, either. Besides being the hottest day of the year, historically, you might remember the research conducted by the NWPB that revealed some important findings about Americans and hydration. Among the findings: Two-thirds of Americans (66 percent) agree that, of all produce, watermelon is the one they would choose to eat to help them hydrate.
So, go ahead and grab some watermelon and mark your calendars for July 24! Also, check out this video of nutritionist, dietician and watermelon-lover Elizabeth Somer talking about National Drink Watermelon Day! And stay tuned for another blog entry on July 24 that offers a look at some watermelon recipes from a variety of bloggers.