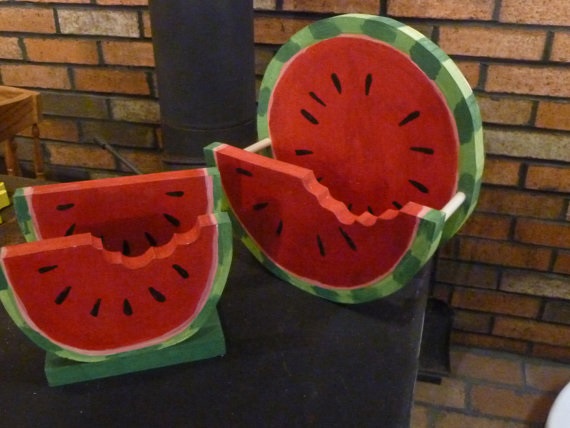 In my opinion, I've saved the best weekly National Watermelon Prize for last. It's the handmade wooden plate and napkin holder set you see above. Why is it the best prize? That's a good question.
First, it's just plain fun and cool-looking. If you're at an event that requires paper or plastic plates and paper napkins, there's a good chance that something that looks like this prize will be a big hit. There's also a good chance that watermelon is being served, and any time you can match your decorations to the menu, you know you're doing something right.
It's also useful. We've all been to barbeques and picnics where the slightest gust of wind sends the stack of plates and napkins flying off the table and through the yard. That's not fun for anyone but the family dog, who might like to chase the napkins as they flutter onto the neighbor's lawn.
Leave a comment below if you'd like this conversation starter at your next backyard party. I'll choose one comment at random to win it!
——————–
Don't forget to enter your best watermelon carving in our 2014 Watermelon Carving Contest! The deadline for entries is August 4. There are $2,000 in prizes and the first 25 entrants will receive a Dexas watermelon cutting board. Check out the contest kickoff blog entry or official contest web page for categories, entry requirements and more details.