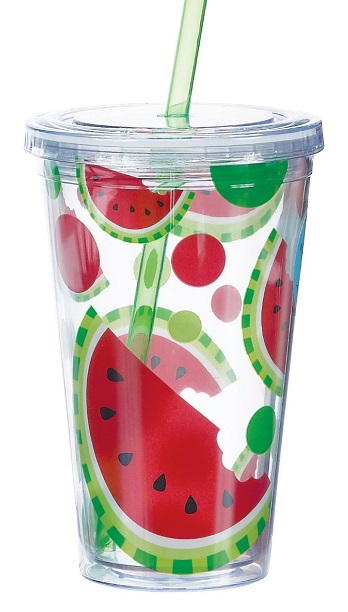 Lately, the prizes here on the watermelon blog have focused on drinks (watermelon water in January and watermelon-flavored drops in February). I've decided to continue the trend with our April prize – the watermelon tumbler you see on the right.
Amazon describes the 16-ounce tumbler as "great for hot or cold drinks" and notes that you can use it for "everything from smoothies to hot coffee drinks." The tumbler is made of durable BPA-free acrylic and has double wall insulation so your drink will stay cooler or hotter longer. The double wall insulation also prevents condensation, which is also nice.
I personally don't use a lot of tumblers – I'm more of a whatever-cup-I-can-get-my-hands-on kind of guy – but I'd definitely put this one to good use. I'd fill it with iced coffee and iced tea. Pretty much anything icy. I'd experiment with hot beverages, too, but that might be tricky with the straw.
To be entered to win this hand vessel, leave a comment below with what you'd fill this watermelon tumbler with. I'll choose one comment at random from all the comments left on the blog this month as the winner. Good luck!