Remember a few years ago when I carved a watermelon shark? Well, I was surfing Amazon the other day in search of this month's watermelon-related prize and I came across a watermelon shark fruit server that was not only awesome, but it also looked remarkably similar to my watermelon shark carving.
Don't believe me? Check out the two predators side-by-side below.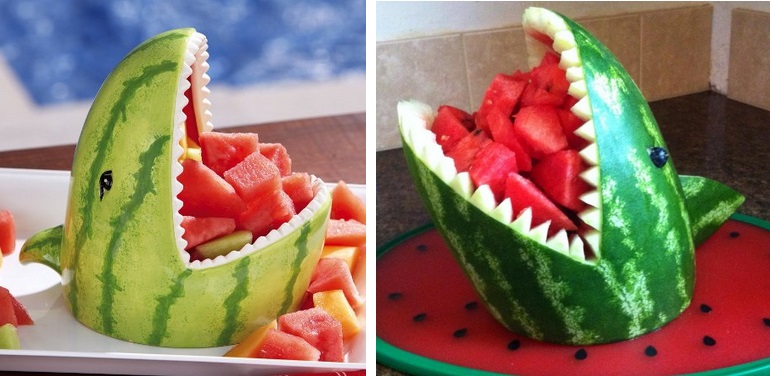 The ceramic shark is on the right, and my shark is on the left. Or is the ceramic shark on the left and mine's on the right? I honestly can't tell, but I have a gut feeling that someone saw my awesome watermelon shark and said, "Hey, we have to turn that incredible work of art into an adorable fruit server!"
Alright, so maybe that's not what happened, and maybe the ceramic shark really is the one on the left, but it could have happened, right? Of course, they could have also seen the watermelon shark carving on the National Watermelon Promotion Board website, which is where I got my inspiration.
Either way, I'm giving away the ceramic watermelon shark as this month's prize. I should clarify that the Amazon description of the shark says it's made of ceramic, but other descriptions more specifically describe it as being made from Dolomite. I have no idea what Dolomite is and how it's different from other kitchenware materials. If someone can explain it to me, please feel free to leave a comment.
I'll choose one comment from all the comments left on the blog this month to win this toothy prize. Good luck!
UP NEXT: A recipe for watermelon ice cream cones