Now at age 4, my daughter has quite a collection of, well, collections going on. Between the boxes of Barbie dolls and all their tiny clothes, a tote full of barnyard animals, and a million other toys, she has a selection most kids would go bonkers for.
As I tucked her into bed last night, I looked out among the glittery, pink room, and I started thinking about the things I collect. For a short time, I collected stamps, but quickly realized that it just wasn't for me (I used to stick them to the walls, my desk, anywhere. My wife was not amused.) After that, I was introduced to a new collectable that we all could enjoy: salt and pepper shakers!
I started collecting shakers 5 years ago from thrift shops and swap meets, where there is no shortage for interesting, unique items. The first pair in my collection shows Snoopy and Woodstock on top of the famous red doghouse. From that, my love for unique salt and pepper shakers grew to a whopping 162 sets to date. My collection also included Scooby Doo and Shaggy, fighting salt and pepper robots, Mario and Luigi, and many more.
If you like salt and pepper shakers, and just so happen to love watermelon, here's the perfect gift for you! These Watermelon Salt and Pepper Shakers ($10.80 on Amazon) are the ideal centerpieces for your kitchen table or picnic table. Leave a comment below and one lucky winner will be chosen to win these!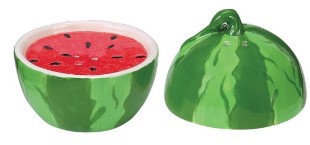 UP NEXT: Watermelon bread??