Eleven months into 2015 and I'm still chugging away at my New Year's resolution of creating more dishes with watermelon! Being only one month away from completing my goal has me thinking about next year's goal. If you have any ideas, leave a comment below.
It's been quite a year of fresh, new watermelon-inspired recipes, but the last two will be geared toward the holidays. With just six days left until Thanksgiving, everything has finally come together at my house in terms of planning, prepping and priming.
This year, my wife committed to preparing at least three dishes with watermelon for our Thanksgiving dinner, including this one for watermelon cranberry sauce. (I whipped it up yesterday to test out the recipe before the big day.) Make this to accompany your turkey, or just grab a spoon and dig in!
WATERMELON CRANBERRY SAUCE
INGREDIENTS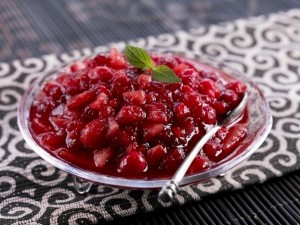 4 cups fresh cranberries
½ cup organic sugar
1 teaspoon vanilla extract
1 lemon (juice squeezed from the lemon)
1 lemon (zest from the lemon)
½ cup maple syrup
dash cinnamon
2 cups minced watermelon
INSTRUCTIONS
Heat cranberries, sugar, vanilla, lemon juice and zest in a 3-quart saucepan over medium low heat until it simmers. Simmer gently, stirring occasionally, until cranberries are tender, about 15-20 minutes. Reduce heat to low and add the maple syrup and cinnamon to the pan. Simmer another few minutes. Remove from heat to rest for 10 minutes. Stir in watermelon and serve warm or chill and serve cold.
For a video showing step-by-step instructions from the National Watermelon Promotion Board, click here.
UP NEXT: INSIDE CHINA'S WATERMELON MUSEUM