There are many reasons why I like the holidays, many of which revolve around the incredible amount of food that crosses my plate during the season. For me, there's no better way to celebrate with my family and friends than by sharing a delicious, homemade meal.
The only bad part about all that holiday grub is figuring out what to do with it all. If you're lucky, your family and friends will gladly take some of it off your hands. If not, I've got the perfect recipe for you.
Got some leftover cranberry sauce? With a few additions, you could turn it into Watermelon Cranberry-Glazed Pork Chops.
WATERMELON CRANBERRY-GLAZED PORK CHOPS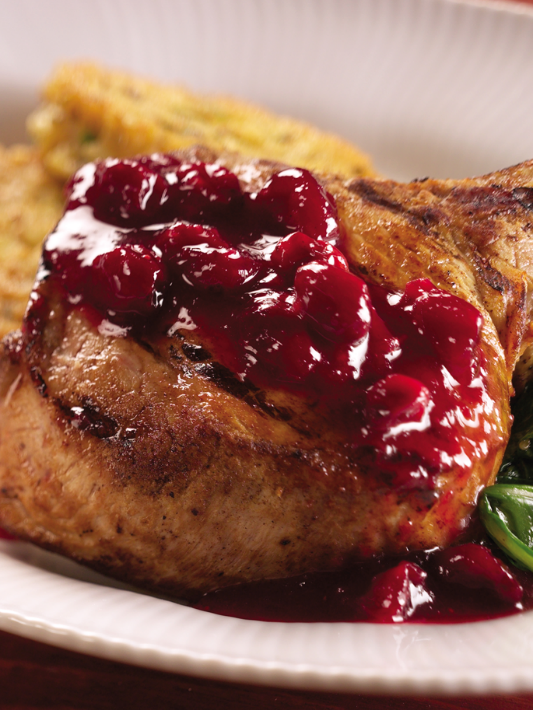 INGREDIENTS (GLAZE)
2 cups watermelon puree
4 cups frozen or fresh cranberries (or use leftovers from your holiday dinners)
1 cup sugar
Dash of cloves
½ teaspoon cinnamon
INSTRUCTIONS (GLAZE)
Simmer ingredients for glaze together in a heavy saucepan for 20 minutes or until cranberries are tender, and sauce is thick.
INGREDIENTS (PORK CHOPS)
8 pork chops
2 cups pineapple juice
½ cup soy sauce
1 tablespoon rosemary leaves
3 cloves minced garlic
1 tablespoon pepper
Watermelon Cranberry Glaze
INSTRUCTIONS (PORK CHOPS)
Place the pork in a large zipper lock bag with rest of the ingredients (except the glaze), and seal tightly. Allow to marinate for at least two hours or up to 12. Grill until cooked, and arrange on a warm platter. Pour the glaze over the chops, and serve immediately.
For more recipes like this, check out the "Recipes" page of the National Watermelon Promotion Board website.
REMEMBER: All comments left on the blog this month are entered to win our January prize — the watermelon backpack — so comment as often as you'd like!
UP NEXT: WHY SHOULD YOU WASH YOUR WATERMELON?