When you bite into a watermelon, more times than not you are greeted with a sweet yet refreshing flavor. If you have a sweet tooth, watermelon can be a healthier alternative than lollies although have you ever considered the amount of sugar found within a watermelon?
---
How Much Sugar Can be Found in Watermelon?
The amount of sugar that you will find in your serving of watermelon will depend on it's weight. If you believe you have consumed around about 85 grams of watermelon, you can expect to have consumed 5.2 grams of sugar. Every 100 grams of watermelon contains approximately 7 grams of sugar. When we say sugar, the type of sugar found in watermelon is known as fructose.
Watermelon is often incorporated in fitness fanatics diets due to its low calorie levels and the fact one bite contains:
Vitamin A
Vitamin B1 and B6
Vitamin C
Potassium
Magnesium
Fiber
Calcium
Lycopene
Iron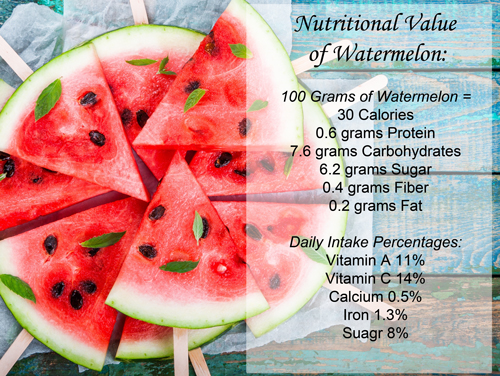 Sugar vs Fructose
If you have landed on this page you may be wondering what the difference between sugar and fructose is. When using the word 'sugar' it is a parent category for the three types of sweeteners found either naturally or added in foods. The three main types of sugars are known as Sucrose, Glucose and Fructose.
The table sugar we are used to is a combination of glucose and fructose and is known as sucrose. Refined sucrose can cause health problems if consumed in large quantities resulting in tooth decay, diabetes, blood pressure, cardiovascular disease and weight gain.
Glucose is what we know as carbohydrate building blocks. Glucose alone is less sweet than fructose and sucrose. While glucose is important as our bodies use this as energy, it is vital to enjoy glucose in moderation.
The last type of sugar, the one that is found in our beloved watermelon is fructose. Fructose is known as fruit sugar. This type of sugar naturally occurs within fruit, honey and root vegetables. Natural fructose is the healthiest form of sugar for the human body while still being the sweetest.
Comparing Sugar (Fructose) in Fruit
If you are wondering how much sugar (fructose) can be found in the fruits that you eat on a daily basis, take a glance over the table below:
| | |
| --- | --- |
| Type of Fruit | Amount of Sugar per 100 Grams (Approximately) |
| Watermelon | 7 grams |
| Blueberries | 4 grams |
| Peaches | 8 grams |
| Apples | 10 grams |
| Pears | 9 grams |
| Kiwi | 9 grams |
| Cherries | 13 grams |
| Pineapple | 9 grams |
| Plums | 10 grams |
| Bananas | 12 grams |
| Mango | 15 grams |
| Oranges | 9 grams |
| Grapes | 16 grams |
| Figs | 16 grams |
| Grapefruit | 7 grams |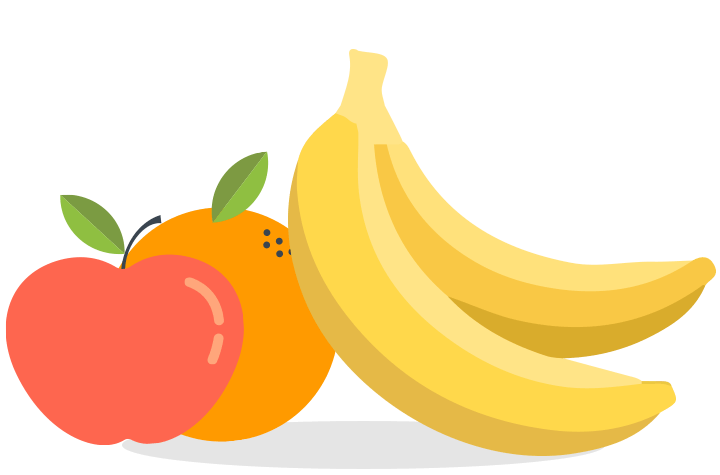 If you're beginning to feel overwhelmed reading about the sugar content found within commonly enjoyed pieces of fruit, remember that the sugar is natural fructose. While natural fructose should be enjoyed in moderation, it is important to understand that a piece of fruit will always be much healthier than a candy bar or lolly that contains processed sugars.
Health Benefits of Watermelon
Now that we've established that the sugars found within watermelon are naturally occurring and can be consumed in moderation, the benefits of eating watermelon heavily outweigh any negatives (such as sugar content). For starters, the antioxidant responsible for making a watermelon red known as lycopene has been linked to a reduced risk of strokes, and lowering blood pressure. Furthermore, some research shows a link between lycopene found in watermelon and lower rates of cancer.
If you are health conscious you'll be happy to know that watermelon is a fat free fruit. Not only is watermelon fat free but it is also made up of 90% water making it a perfect pre or post exercise treat. If you stick to the 3 and 5 guidelines, making watermelon one of your three fruits can fuel your body with vitamins and minerals.
If you consume 1 cup of diced watermelon you are unknowingly replenishing your body with 12.3 mg of vitamin C, vitamin A, calcium, magnesium, phosphorous and folate. Vitamin C found within watermelon has links to reducing asthma, the fiber helps to promote a healthy digestive tract, the high amount of water will keep you hydrated and the vitamin A provides moisture to your skin and hair.
Nutritional Breakdown of Watermelon
The following table displays the nutritional breakdown of one cup (approximately 152 grams) of diced watermelon.
| | |
| --- | --- |
| Nutrition Type | Nutrition Amount |
| Calories | 43 |
| Fat | 0 grams |
| Sodium | 2 milligrams |
| Carbohydrates | 11 grams |
| Sugar | 9 grams |
| Fiber | 1 gram |
Eating one cup of watermelon can fulfill percentages of your required daily intake of certain vitamins and minerals. This information is displayed in the table below.
| | |
| --- | --- |
| Nutritional Type | Percentage of Daily Intake |
| Vitamin A | 17% |
| Vitamin C | 21% |
| Iron | 2% |
| Calcium | 1% |
| Magnesium | 3.75% |
| Potassium | 3.62% |
---
I am a Diabetic. Can I Safely Eat Watermelon?
For those with diabetes, keeping track of what they eat and monitoring their blood sugar levels regularly is crucial in maintaining their health. If you have diabetes yourself, or you are inquiring for a friend or family member read on to find out whether or not watermelon will have an affect on blood sugar levels.
While those with diabetes should always consult a dietitian for a meal plan, watermelon can generally be consumed in moderation with no adverse affects. The sugar found in fruits such as watermelon occurs naturally. While natural sugar should be monitored, it does not affect someone with diabetes the way in which foods that contain added sugars do.
Glycemic Index and Watermelon
Each food can be analyzed to be given a Glycemic Index (GI) and a Glycemic Load (GL). A Glycemic Index refers to the way that sugar enters the blood stream whereas the Glycemic Load looks at how much a person's blood glucose levels will rise after consumption.
When talking about the Glycemic Index of watermelon, it has a Glycemic Index of 72 which is considered high although a Glycemic Load of 2 for every 100 grams consumed which is consider low. If you are wondering what this means for diabetics, in short it means that watermelon can be consumed although should be moderated by eating watermelon alongside low-GI foods.
If you suffer from diabetes, fruits that contain lower GI's than watermelon include plums, grapefruits, peaches and pears.