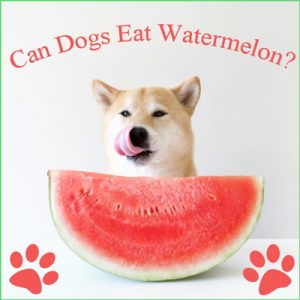 During those hot Summer days, the majority of us humans enjoy indulging on watermelon slices. Have you ever wondered though, if you can share that juicy delicious watermelon with a fury friend?
The simple answer to 'Can Dogs Eat Watermelon?' is 'Yes'. In saying this, like all foods, watermelon should be offered in moderation. In fact, the hydrating qualities and extensive list of nutrients in the watermelon flesh can actually benefit your dogs well being.
Watermelon Precautions for Our Fury Friends
If your dog is sniffing around you and eyeing off your watermelon you may decide to offer him a bite. It is important to ensure the watermelon is rind and seed free. While some larger dogs may be able to handle seeds and rind, smaller breeds can easily fall ill if they ingest them.
Watermelon Seeds
Prior to offering your dog a piece of watermelon, ensure the large black seeds (and white seeds if possible)  are removed. While one seed can generally be passed naturally, a collection of seeds can lead to a fatal block in your dogs digestive system. If your dog accidentally swallows a seed and shows signs of an intestinal blockage (vomiting, constipation or becomes lethargic) it is vital that you see a veterinarian straight away.
Watermelon Rind
Like us humans, eating the rind is not recommended. Not only will the rind give your dog an upset stomach, but due to the density of rind it can also damage your dogs teeth and gums.
Limit the Amount
Digesting too much watermelon can lead to diarrhoea in both humans and dogs. Ensure you offer your fury friend pieces as a treat not a meal. A couple of pieces for a small dog is more than enough, while four cubes for a large dog is plenty.

How Can Watermelon be Beneficial for my Dog?
It's a lovely treat on a hot day but who knew watermelon actually comes packed full of benefits. Watermelon is comprised of 92 percent water meaning that this fruit along with a plentiful supply of water will keep your dog hydrated on a hot day. Fat and cholesterol free with only 50 calories per cup, watermelon is one of the healthiest treats to reward your dog with. Watermelon comes prepacked with nutrients such as vitamin A, B6 and C meaning you are not only rewarding your dog with a snack but a long list of benefits as well. This fruit is one of the highest in fibre, so when given in moderation it can help with digestion.
Reasons to Reward Your Dog with Watermelon
Watermelon is predominately made up of water
Watermelon is a low fat and sugar treat
This fruit contains approximately 5% natural sugar
Watermelon is a healthy and different alternative to packet dog treats
Watermelon is a relatively cheap treat (when in season)
Giving Watermelon to Your Dog
When giving watermelon to your dog it is recommended that you cut it up into pieces and remove any rind and seeds. If your dog has not tried watermelon before, ensure you only start them with a bite or two and then see how they go over the next couple of days. Monitoring your dog when providing them with any new food group is important. Some owners prefer to give their dogs simple cubes of watermelon, while other owners use watermelon as an ingredient in their delicious doggy treats.
Safely Preparing Watermelon for Your Dog
Cut the watermelon flesh away from the rind.
Dispose of the rind.
Remove all seeds (white and black).
Cut the watermelon into bite sized cubes. The size of the cube will depend on the size of your dog.
Delicious Doggy Treats
'Watermelon Pupsicles' are a popular doggy treat. These 'Pupsicles' can be made by simply blending coconut milk and cubes of watermelon together, pouring the mixture into a mould and placing them in the freezer. Using a simple pupsicle recipe, you can easily create a yummy watermelon dog treat similar to the ones pictured below. Some owners even get creative and include other dog friendly fruits in the mix. If you decide to get creative, make sure you never include: chocolate, avocado, raisins, grapes, nuts or unripe tomatoes in your dog treat mix. These foods are highly dangerous when consumed by your fury friend.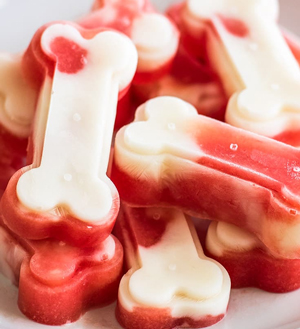 Conclusion: The Pawfect Alternative to Regular Dog Treats
In conclusion, watermelon can be given to your fury friend in moderation and without rind or seeds. The majority of us humans love a sweet slice of watermelon on a hot day and similarly our dogs do too!
Always Remember:
It should not be given as an alternative to a meal.
Watermelon should be used as a reward or a treat food.
To remove all rind and seeds prior to offering the fruit to your dog.
If you ever have any doubts ensure you see a trained veterinarian
Hot Picks for a Watermelon Loving Canine
Is there anything cuter than a watermelon dog jumper?
We have gathered some of the most popular watermelon canine merchandise that your furry friend will love!