If you are a watermelon lover, you can't go past a good watermelon syrup to sweeten up a somewhat bland ice-cream, soda or cocktail. Watermelon syrup is sweet, fruity and of a thicker consistency than juice.
While nothing beats homemade watermelon syrup, if you don't feel like putting a chefs hat on, we've also included bottled watermelon syrup that you can order online and have sent directly to your door.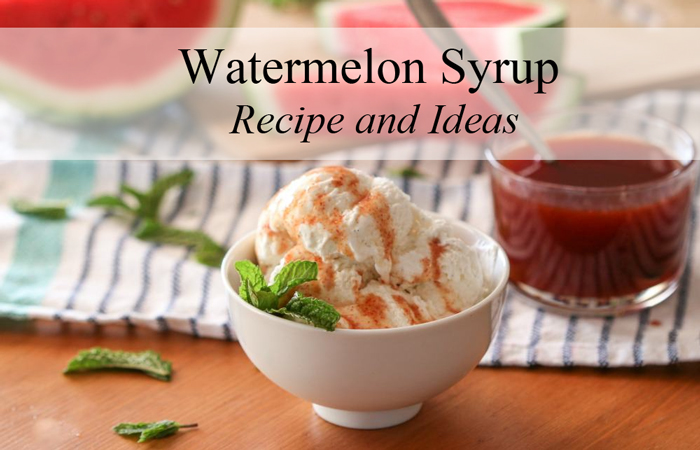 Best Uses of Watermelon Syrup: Watermelon Soda / Watermelon Cocktail
What is Watermelon Syrup?
Syrup: 'A thick and sweet liquid generally created by dissolving sugar in boiling water'.
If you've never heard of watermelon syrup before you may be wondering what it is and how it tastes. Similar to vanilla or caramel syrup, watermelon syrup is sweet and much more dense than watermelon juice. It is produced as a concentrate and just a drizzle will sweeten up a drink or desert. Watermelon syrup can be made at home by simmering watermelon juice and sugar over a stove top or can be purchased online or in some leading supermarkets. Just like any syrup, watermelon syrup makes a tasty addition to desserts such as ice-cream or pudding, alcoholic beverages such as cocktails, or hot and cold drinks such as teas or lemonades.
Should I Make or Buy my Watermelon Syrup?
While crafting your own watermelon syrup ensures it is free from preservatives and is friendly on the budget, homemade syrups will expire generally within the week. The syrup will take up to an hour to make and the overall sweetness will depend on the watermelon that you have chosen. Creating your own syrup gives you control of the sugar content and quantity you make.
On the other hand, purchasing a watermelon syrup online or from a retailer can be costly. One 750 mL bottle generally retails between $12.00 and $24.00 USD. This compares to only a couple of dollars to create watermelon syrup at home. While bottled watermelon syrup does have an extended shelf life, you must also consider the preservatives used to allow it to last such a long time.
Watermelon Syrup Recipe
If you'd like to create your own watermelon syrup at home, we've included a quick and easy guide below. Watermelon syrup can be created by beginner cooks as it only uses two simple ingredients: watermelon and sugar.
Ingredients Needed for Watermelon Syrup:
1/2 of a Standard (Seedless) Watermelon
1 Cup of White Sugar (Brown sugar can also be used)
Creating Watermelon Syrup:
Before we begin to create our very own watermelon syrup, you'll need to have a knife, strainer, blender and saucepan handy. Creating your very own watermelon syrup will take between 1 to 1 1/2 hours from start to placing the syrup in the refrigerator to cool down.
Once you have half of a standard watermelon, you'll need to cut it up into pieces. Ensure that you have discarded all of the rind.
Place the pieces of watermelon into a blender on high for a minute or so until all the pieces are blended well.
Pour the watermelon through a strainer into a bowl to remove any pulp. A little bit of pulp that falls through won't matter.
You should now have between 2 and 3 cups of pure watermelon juice. You will need to add this juice and the sugar to a saucepan and simmer of medium heat.
Your watermelon syrup will need to simmer for approximately 45 minutes to become that thick syrup consistency needed. Ensure you stir the mixture consistently to ensure the sugar does not burn.
Once you have a thick watermelon syrup, remove it from the heat and let it sit too cool for half an hour. You should have approximately half the liquid quantity that you began with.
Place the syrup in a bottle or container and allow it to cool further in the refrigerator.
Add watermelon syrup to deserts, alcoholic or non-alcoholic drinks. Enjoy!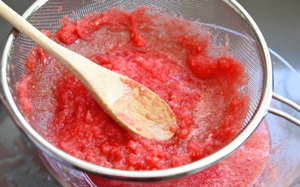 Fresh watermelon syrup can last up to 5 days in the refrigerator.
Do I Have to Add Sugar to Create Watermelon Syrup?
While you can lessen the amount of sugar you add when creating watermelon syrup, without enough sugar, you may find that you'll need to use a lot more watermelon to create the syrup consistency if it doesn't burn in the process. At the end of the day, the word syrup generally refers to a sugar syrup and while raw sugar (brown sugar) can be used in place of white sugar, you're best not to remove the sugar entirely if you would like your watermelon syrup to turn out.
Uses for Watermelon Syrup
If you've given our Watermelon Syrup recipe a go although you haven't thought of what you will use the syrup for just yet, we've included some watermelon loving treats below that require watermelon syrup:
Watermelon Syrup Drinks
Watermelon Gin Crush
Watermelon Lemonade
Watermelon and Lime Sparkling Water
Watermelon Slushie
Watermelon Cocktail
Watermelon Milkshake
Watermelon Mojito
Watermelon Syrup Desserts
Watermelon Ice-cream
Watermelon Dressing for Fruit Salad
Frozen Watermelon Pops
Watermelon Sorbet
Watermelon Pancakes
Bottled Watermelon Syrup
If you would prefer to buy bottled watermelon syrup, perhaps for a watermelon themed party or just to spruce up your desserts or cocktails, we've added a collection of watermelon syrups below.
---
Monin Classic Watermelon Syrup
Monin mixes are among the most popular and in fact are generally the most cost effective as well. This classic watermelon syrup can be used to sweeten sodas, slushes, cocktails and teas. Monin syrup is free from dairy, animals products and gluten and is also halal and kosher friendly. Monin do not use artificial sweeteners either making this a suitable choice for most watermelon lovers.
RRP: $12.00 – $14.00 (750 mL)
"I love this syrup. I had a watermelon margarita at longhorn steakhouse and this syrup was an ingredient. I knew I had to purchase it immediately. it is absolutely delicious."
---
DaVinci Watermelon Fruit Syrup
'What About Watermelons' Top Pick for Bottled Watermelon Syrup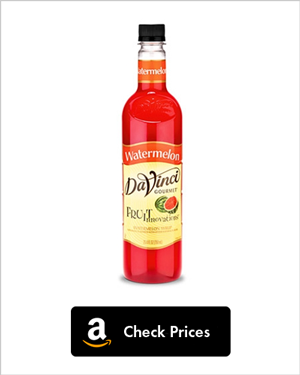 Made from high quality ingredients, DaVinci watermelon syrup is sweet and won't disappoint a watermelon enthusiast. The DaVinci syrup brand is commonly used in many large chain coffee houses and has built up a good reputation. Made from pure cane sugar, this syrup is sure to give your dessert or drink the flavor pop it needs. The reason many continue to use DaVinci syrups is the fact they can be used in hot or cold beverages or desserts. This syrup is also available in a 'sugar free' variety.
RRP: $23.00 – $25.00 (750 mL)
"This syrup is great for Italian sodas. I love the fresh summer flavor. I may even try using it to create a watermelon lemonade."
---
Torani Watermelon Syrup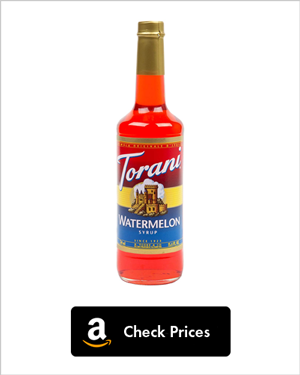 Made from pure cane sugar, this watermelon syrup by Torani is sweet and juicy. Torani syrups are kosher certified. This watermelon syrup can be enjoyed in desserts, teas, coffee, milkshakes and other hot or cold beverages.
RRP: $12.00 – $14.00 (750 mL)
"One of my favorite flavors. Very nice in cocktails, with club soda, or even to make popsicles. A really nice juicy watermelon taste."
---