Are you looking for a party theme that is unique and memorable? Why not celebrate your birthday or event with an on-trend watermelon theme. You can use a mix of watermelon colours, shapes, flavours and images to make this event one to remember.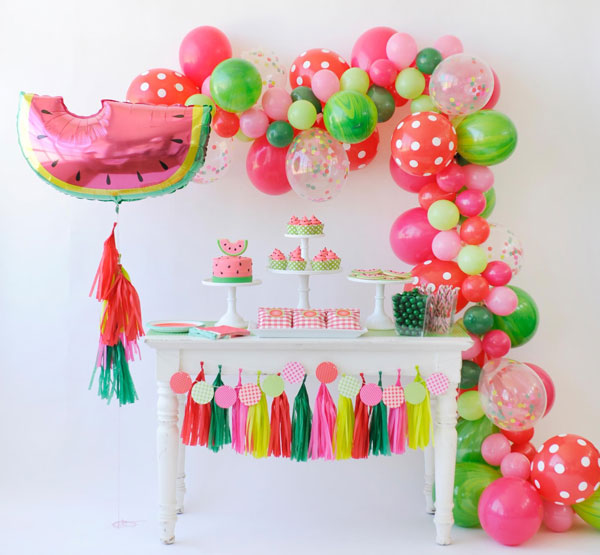 Invitations
Let your guests know about your upcoming watermelon themed party with unique invitations. You can create your own invitations using Photoshop or simply use a pre-made template online. Either print your invitations on paper, cardboard or glossy photo paper. If you have a small guest list you may even consider hand crafting your invitations.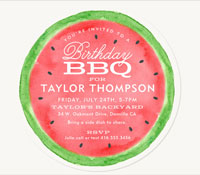 Cake
If you are planning to use the watermelon theme for a birthday or special event why not treat your guests with a watermelon flavoured, shaped or coloured cake. You can simply cut a sponge square into a semi-circle shape and ice it to match the look of a watermelon using fondant. For more extravagant designs, many bakers can replicate cakes from similar images you have found online.
If a large cake isn't for you, watermelon themed cupcakes or cake pops are also easy to create!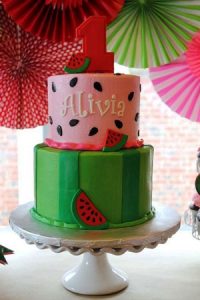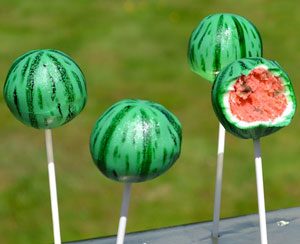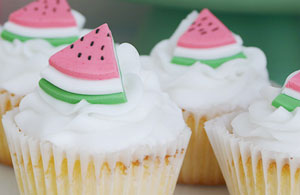 Balloons
A must for every celebration is at least a handful of colorful balloons. If you are time poor and do not have time to order balloons online you can select a mix of green and red helium balloons. We suggest a handle of plain coloured red and green balloons with the addition of some watermelon shaped helium balloons. If you are celebrating a birthday why not add a red 'age' balloon in the mix!
Watermelon 7 Piece Balloon Set 
Pinata
A memorable event at all great parties is trying to crack the almost impossible, very resistant pinatas.
If you have left yourself enough time to create your very own pinata and allow it to fully set in time for the big day, you will be able to save yourself some money. You can decorate it with tissue paper and black craft buttons. If you prefer to buy a pinata, most range anywhere from $20.00 – $40.00. You can fill your pinata with a range of wrapped lollies/chocolates in green and red wrapping. Some ideas include peppermint crisps, cherry ripes, chocolate kisses, kit kats and mint patties.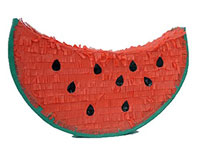 Decorations
There is a wide variety of watermelon themed decorations on the market. Some ideas you may like to use at your party include:
Green or red plastic cutlery (you can generally find colored cutlery at the local two dollar shop)
Watermelon themed drink bottle wraps
Red and green streamers
Chalk board or light box where you can write messages about the party (For example: "You're One in a Melon" for a first birthday party)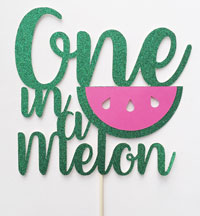 Party Games
What is a party without fun and games? Below we have listed some of our favourite watermelon themed party games.
Watermelon Eating Competition
A contest to see which guest can consume the most watermelon in a specific amount of time. A little messy, but a lot of fun!
Watermelon Bowling
What you will need:
6 empty 2 litre drink bottles (or similar)
1 large watermelon (preferably round in shape)
Instructions:
Paint and decorate your six empty drink bottles.
Aline the bottles so that there are three at the back, two in the middle and one in the front.
You are now ready to play with your friends. The aim of this game is to bowl the watermelon and knock down all of the six bottles.
Watermelon Balloon Burst
What you will need:
A mixture of red and green balloons
Lollies, chocolate, vouchers or gifts of your choice
Masking Tape
One dart
Instructions:
Using red and green balloons, place a small lolly, chocolate or voucher in each (ensure you have one balloon per guest).
Blow up the balloons and tie a knot in each.
Tape them to a flat wall.
Each guest will have a chance to throw a dart at one balloon. Once the balloon pops, the guest will win the prize that falls from that balloon.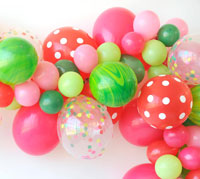 Party Favors
A great way to thank both family members and friends for making your event is to give them a party favor bag when they leave. You can fill these bags with a range of lollies, or alternatively you can fill these with watermelon treats. Trolli watermelon slices are popular gummy lollies that you may like to add to your party bags. Some other 'watermelon themed' favors include:
Red or green small bubble blowers
Red and green balloons
Watermelon scratch and sniff stickers 
Hawaii party brooch pins 
Watermelon lip gloss (for a women populated party)
Watermelon flavoured ring pops
Red sour strap lollies
Red and green coated chocolates
Home-made watermelon shaped cookies
Catchy phrases you might like to add to party bags:
'Grab a slice before you leave'
'So sweet of you to come'
'Thank you for coming. You're one in a melon!'
'Thanks for being so sweet'
'Thank you for making my birthday so sweet!'
'Thanks a melon for coming to my party'.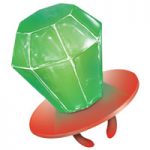 Watermelon Drink Dispenser
You can create your very own drink dispenser by using a whole watermelon.
Remove the flesh and add a drink dispenser to the bottom. Fill the watermelon with a drink of your choice. You could refill your drink dispenser with watermelon juice.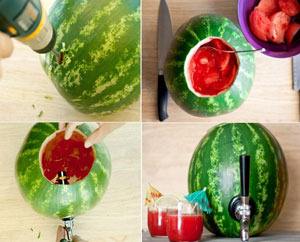 Watermelon Party Food – "Be Calm and Eat Watermelon"
Under Recipes, you can find a great range of food ideas that are guaranteed to be loved by all your party guests. Popular watermelon themed party food include: