These pretty little Watermelon Balsamic Cups are the perfect, elegant and easy appetizer for your next get together! I've used a fluted cookie cutter to give the illusion of flowers, but you can cut into any shape you desire. Filled to the brim and drizzled with with sweet balsamic glaze. They are simply stunning.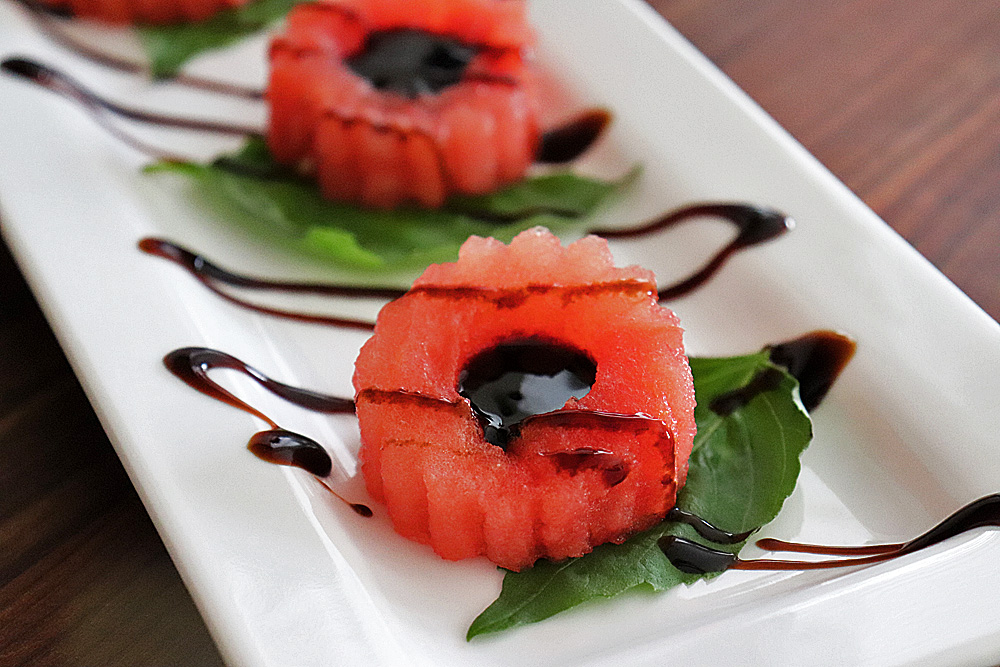 How to cut the watermelon
Cut a personal sized watermelon in half so that it is more manageable. You can also trim a piece off the rind when you turn it on its side to give you a more stable, flat surface to work with.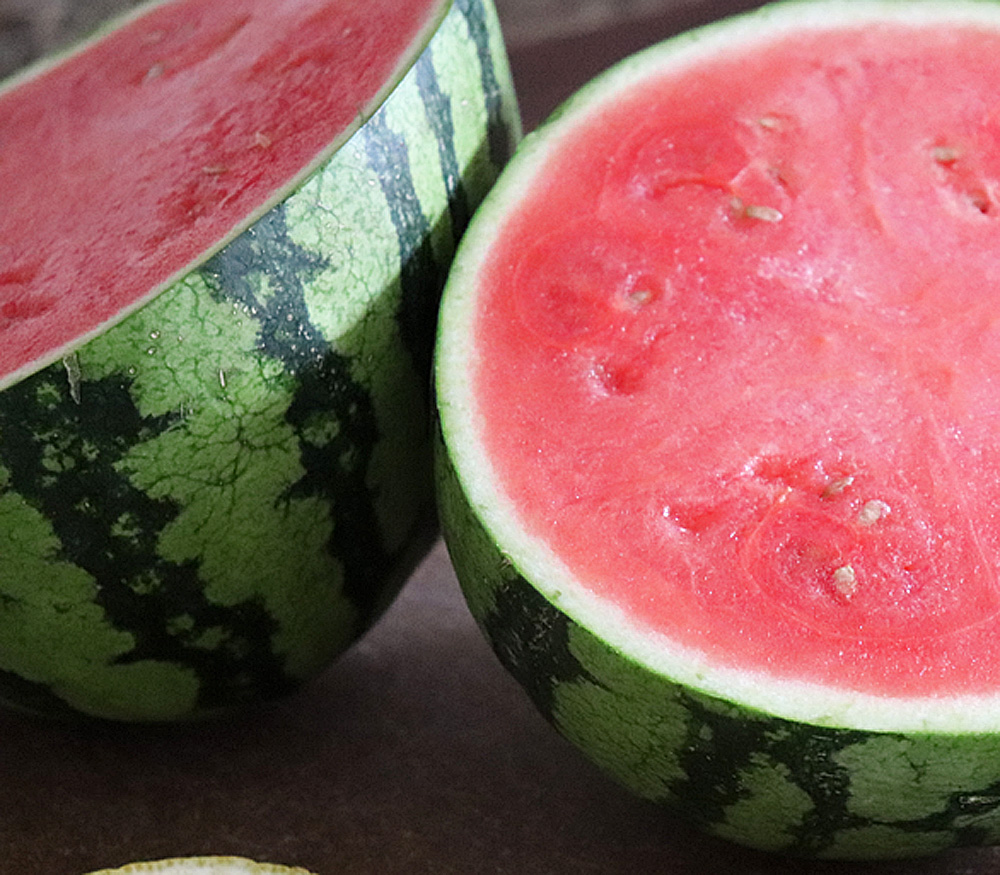 Then, cut into thick slices or "steaks" as I like to call them. Note that I have cut mine at an angle for added interest. You could also trim yours after cutting with the cookie cutter to achieve this effect. Do whichever is easiest for you.
Using a fluted round cutter easily found on Amazon, I go straight down and pull up – no twisting. You want as clean an edge as the watermelon will allow.
Next, take a small 1/8 teaspoon and hollow out the center taking care not to go all of the way though. We need a well that will hold our balsamic glaze.
CHEF'S NOTE: It's important to turn these over onto paper towels to drain for at least 5 minutes to absorb any excess liquid.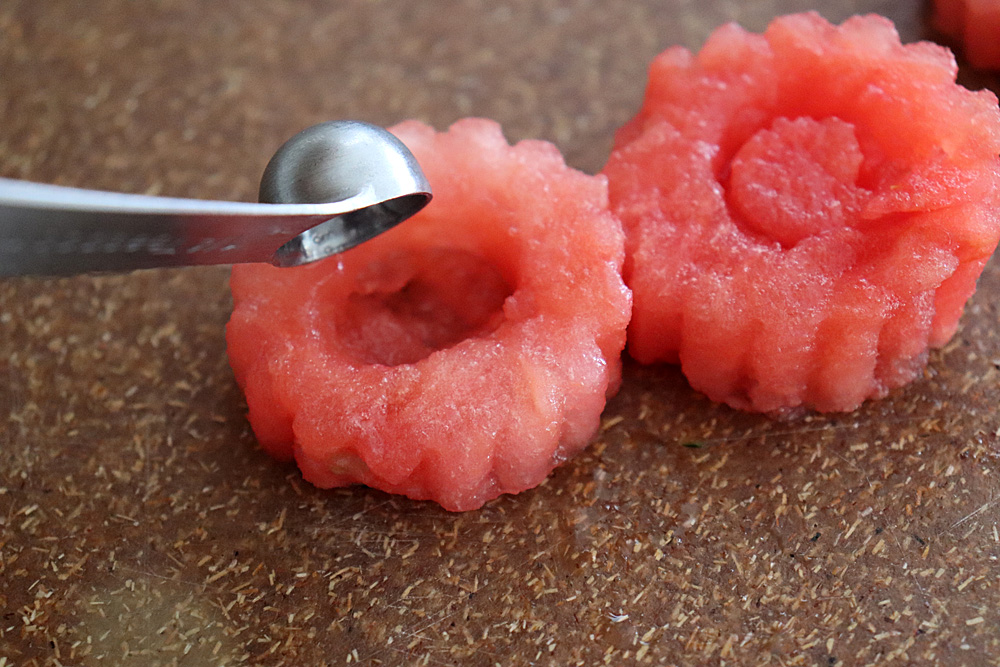 Next, arrange fresh basil leaves on a serving plate and top with your watermelon cups.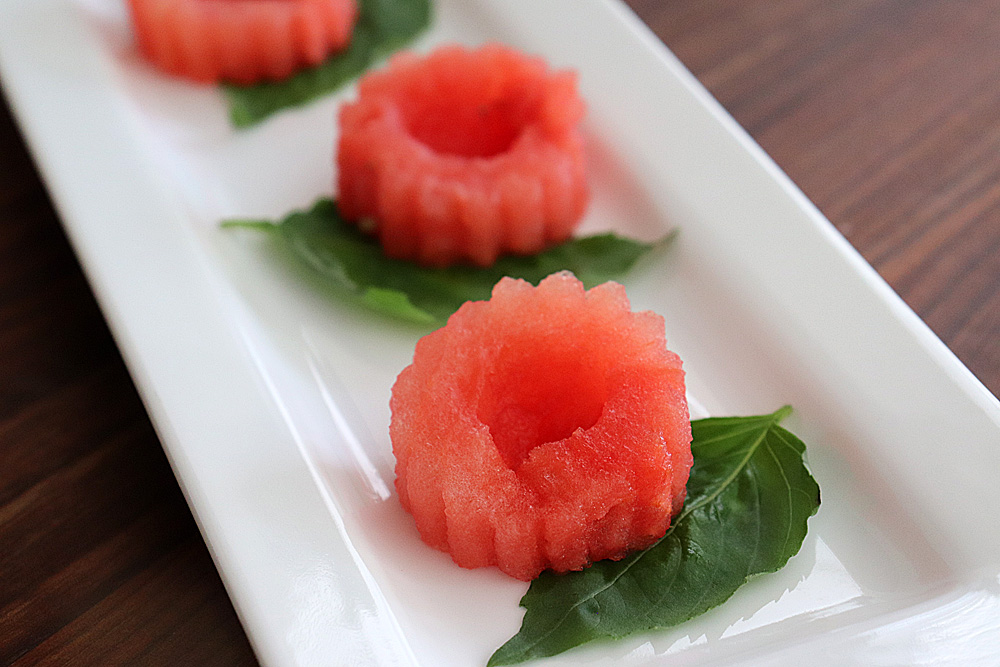 You'll need to find a sweet balsamic glaze such as this one from Bertolli. They are usually found in the salad dressing aisle of your grocery store.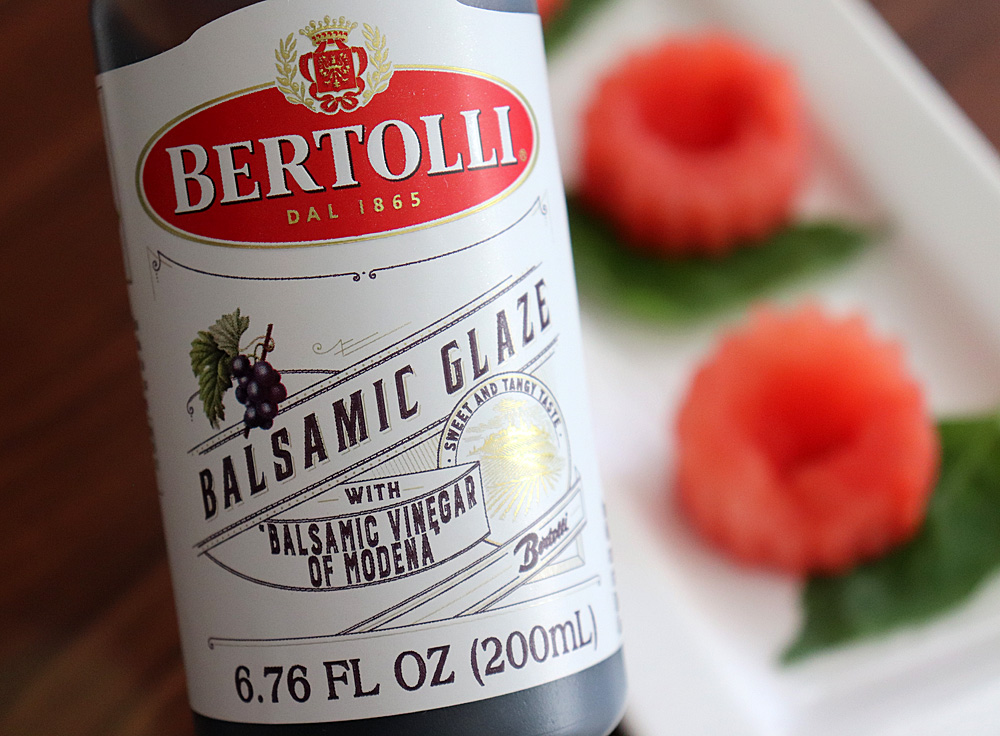 It's a thick, syrup glaze that you can pour or squeeze into the center of the watermelon cups. They look so pretty already, but we're not quite finished just yet!
Take the bottle and create a drizzle back and forth over the enter length of your plate. An artistic flare if you will.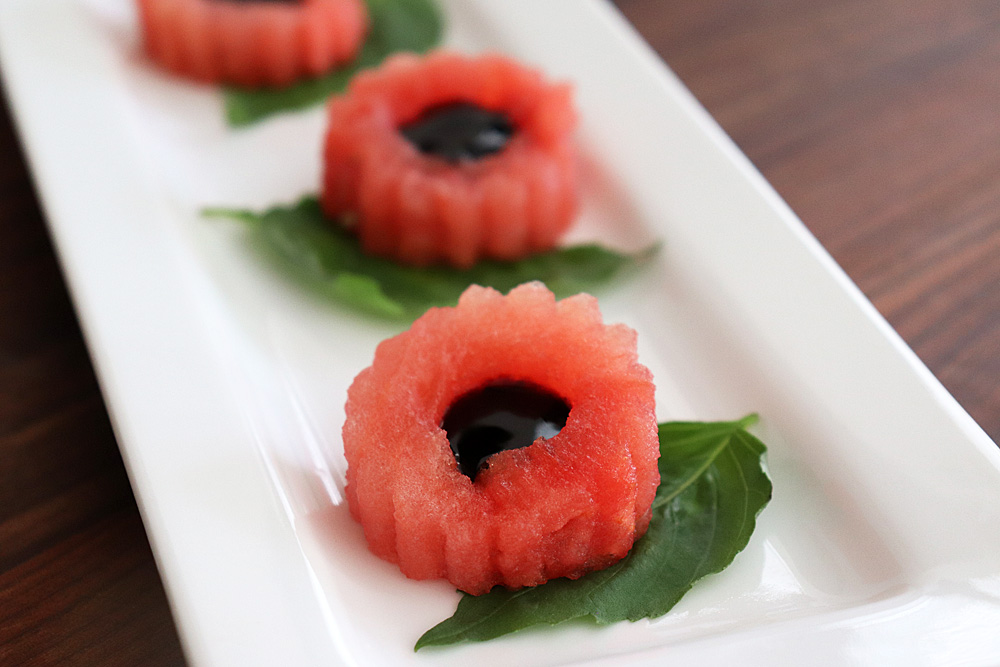 Did you make my Watermelon Balsamic Cups? Leave a comment below and let me know what you thought. Feel free to make this your own. Sprinkle a bit of sea salt or place on a smear of cream cheese or feta. Get creative!
Preparation Time:
Equipment Required:
Sharp knife
Flutter cutter (optional)
1/8 teaspoon or small scoop
Ingredients:
1 personal sized seedless watermelon
Fresh Basil Leaves
Balsamic Glaze for drizzling
Method:
Slice the watermelon into 1/2″ slices and then using a round cutter, cut out your "flowers" or cups, To get that angle, I simple cut my slice that way, but you can always trim after cutting out the flowers/cups, if desired.
Using a 1/8 teaspoon, hollow out the centers taking care not to go all of the way through, creating a well to hold the balsamic glaze.
Turn the watermelon cups over onto a paper towel and allow them to absorb the excess liquids for about 5 minutes. Pat dry.
Next, arrange fresh basil leaves onto your plate and top with the hollowed out cups.
Fill with balsamic glaze and drizzle over the entire serving plate.
Enjoy immediately.