March 8th, 2013 by The Watermelon Guy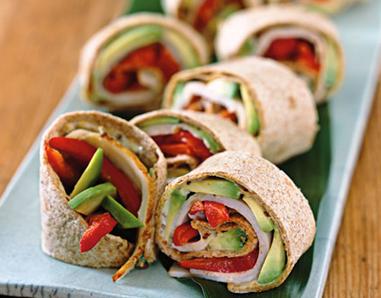 Lately, I've found myself eating an unusually high number of tortilla shells, which is one of the things that made me want to feature this recipe.
I use tortillas for the usual soft tacos, but I've also put them to use as pizza crusts, in a layered Mexican casserole (similar to lasagna noodles) and in breakfast burritos. And now, I'll use them to make these watermelon ham wraps. You can put whatever you'd like in these wraps, so feel free to deviate from the recipe below.
INGREDIENTS
1 tablespoon chive and onion spreadable cream cheese
1 large, burrito-size low-fat tortilla
1 ounce thinly sliced low-fat ham (or turkey)
1 lettuce leaf
other vegetables as desired (avocado, bell pepper, etc.)
1 seeded watermelon spear, about
1/2-inch thick, 1-inch wide and 9-inches long
INSTRUCTIONS
Spread cream cheese on tortilla, covering to edges. Place ham across center of tortilla; top with lettuce leaf, making sure edges to be rolled are not covered. Place watermelon spear on lettuce just off center. Roll tortilla over watermelon spear; continue rolling, tucking in ham and lettuce. Cream cheese will help tortilla stay rolled. Slice wrap into half inch to three-quarters of an inch pieces. Fasten pieces with wooden pick if needed.
Posted in
General
|
2 Comments »