June 13th, 2013 by The Watermelon Guy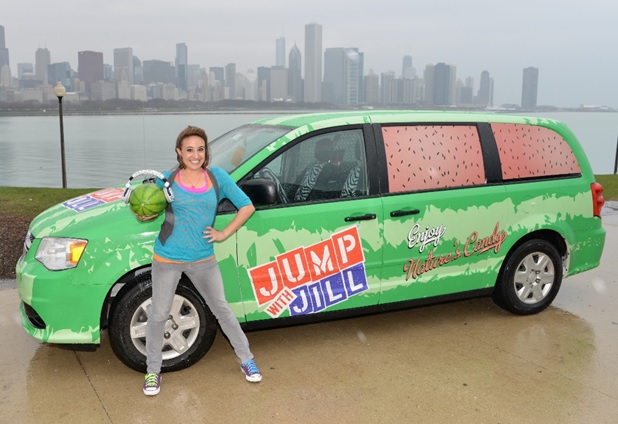 Not to sound like an old man (even though I am pushing 40), but kids these days just don't seem to play outside as much as we did when I was young. Jill Jayne agrees with me. Or at least I'm pretty sure she does.
Jill is a registered dietitian and the energetic, creative force behind Jump with Jill, a multimedia health program that makes nutrition and health fun for kids by combining music with entertaining fitness lessons. The live Jump with Jill show has been performed live 1,000 times for 250,000 kids all over the United States and Europe and has been featured in national media outlets including Nickelodeon, Sprout PBS, NPR, and The Washington Post.

Jill is also a big fan of watermelon. She's so much of a fan, she's created a retro-inspired video series called Watermelon Workouts, in which she works out while carrying a watermelon to showcase the benefits of healthy eating and exercise. (That's the star of the Philadelphia Jump with Jill cast, Kristina Psitos – better known as Philly Jilly – in the photo above with the watermelon van that transports her to and from her many appearances.)
In her latest Watermelon Workouts video, Philly Jilly trots her 15-pound watermelon around Philadelphia in a tribute to fictional boxing great Rocky Balboa. Check out Watermelon Workouts in the City of Brotherly Love below. Pretty impressive – but I'm not the best judge of fitness, considering that I get a little winded just lifting three watermelons out of the bin at the grocery store.
Posted in
General
|
2 Comments »