September 6th, 2013 by The Watermelon Guy
Fighting hunger has always been a cause I've been passionate about. That's why I was very happy to learn that the National Watermelon Promotion Board and several other fruit and veggie producers had teamed up with Feeding America and Sony Pictures on a special promotion surrounding the new movie Cloudy with a Chance of Meatballs 2 (in theaters September 27).
The animated comedy is about an inventor whose creation transforms food into hilarious foodlike animals. Among the "foodimals" are shrimpanzees, tacodiles, and the gigantic but adorable watermelophant.
The partnership between Sony Pictures and Feeding America is well-timed, too, because September is Hunger Action Month. As part of the campaign, donations of fresh produce will be made to food banks across America.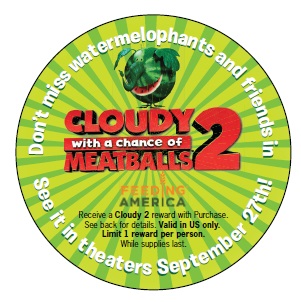 And if supporting such a worthy cause isn't enough, you can be rewarded, too! The National Watermelon Promotion Board has placed stickers, like the one on the right, on 100,000 watermelons nationwide. If you find one, visit the Cloudy 2 Win website to redeem the code on the back of the sticker. Prizes include printable coloring pages featuring characters from the movie, two free 8×10 prints from Shutterfly, and Hollywood Movie Money 3D Movie Upgrade Certificates.
Of course, you can also go see Cloudy with a Chance of Meatballs 2, which arrives in theaters on September 27. It's animated and rated G, which means it'll be tons of fun for kids, but it's one of those animated movies that also packs plenty of laughs and subtle humor for grownups.
Posted in
General
|
2 Comments »