December 4th, 2012 by The Watermelon Guy
I've decided to mix things up a little bit this month when it comes to our monthly prize. In the spirit of the holidays, instead of featuring one watermelon-related gift and giving it away to one comment chosen at random, I'm going to feature six cool prizes (three today and three more on Wednesday) and let the winner pick which one they'd like to receive.
The other reason I'm featuring six watermelon prizes is to help everyone with their holiday shopping by giving you ideas for things to get the watermelon lover in your life. I know I could use some inspiration now and then. Every year I tell myself that I'm going to have my shopping wrapped up long before Christmas, and every year I find myself scrambling the day before to get it all done. Does anyone else find themselves in a similar predicament?
If all my friends and family members were watermelon lovers, I wouldn't have that problem, because they'd be getting one of these gifts and they'd love it: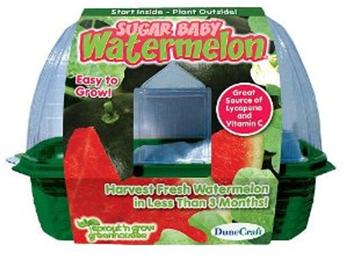 A WATERMELON GROWING KIT ($9.06 on Amazon.com) – I've always wanted to grow my own watermelon, but I never know how to start the process. That's where the Sprout 'n Grow Greenhouse comes in. This kit is actually an all-in-one product that allows you to grow your very own Sugar Baby watermelons. It includes watermelon seeds, a windowsill greenhouse, planting mixture, instructions and an information sheet. The best part? When the recipient harvests his or watermelon later in the year, they might invite you over to their house to help eat it!
A FAKE SLICE OF WATERMELON ($11.50 on DisplayFakeFoods.com) – I'm not sure if this delicious-looking gift is thoughtful or just kind of mean, but I'm leaning toward thoughtful. Just look how real this slice of watermelon is! Who wouldn't love to have a slice of watermelon sitting on their desk all year long, even if it's a fake one? I know I'd like it; plus, it would inspire me to eat more watermelon – and that's always a good thing.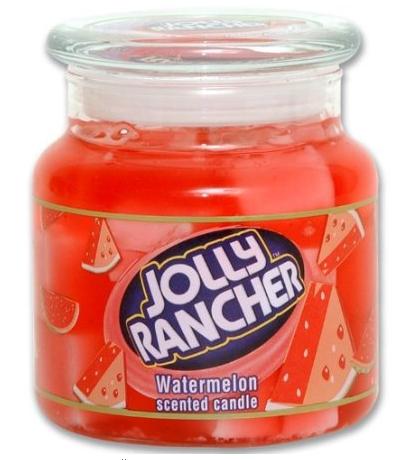 A WATERMELON-SCENTED CANDLE ($9.99 on Amazon.com) – This gift is sort of like the fake slice of watermelon because it'll probably make you really hungry for watermelon. But here's the thing: If you're a watermelon lover, you're always hungry for watermelon, so it's okay. This 16-ounce candle offers approximately 90 hours of sweet watermelon-scented burn time. The only question is, do you save it for the spring and summer, or do you fire this thing up on December 25 two minutes after you open it?
Posted in
General
|
8 Comments »