July 15th, 2013 by The Watermelon Guy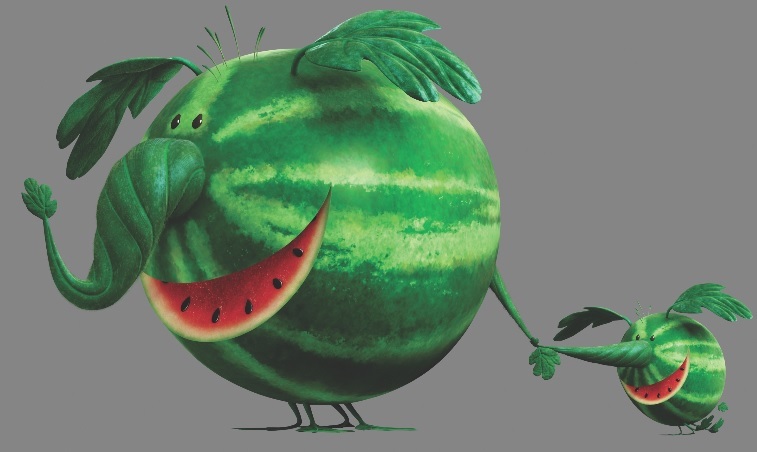 I didn't used to be a fan of animated movies, but ever since I became a father three years ago, I've learned to appreciate the joys of cartoon filmmaking. One of those movies is Cloudy with a Chance of Meatballs, a movie about an inventor whose newest creation turns rain into food. The movie was a success, which is why a sequel – Cloudy with a Chance of Meatballs 2 – will be released on September 27.
One of the film's characters is a watermelon elephant creation known as a Watermelophant. To help promote the movie and the good cause it supports (the movie's produce partners are helping to solve hunger by donating thousands of pounds of fresh produce to families and children in need), this year's Watermelon Carving Contest includes a "Best Watermelophant" category.
Turns out, carving a Watermelophant isn't as tricky as you might think. I recently gave it a shot and I'm happy to share the step-by-step experience with the photos below.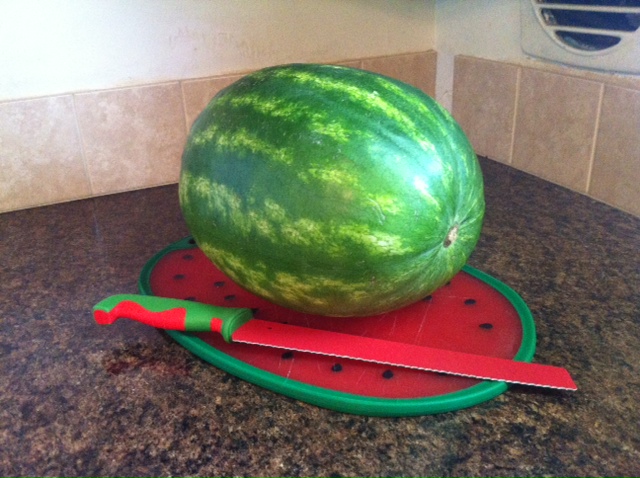 Like any carving, start with one clean, relatively blemish-free watermelon. The key part of that formula is the clean watermelon. Before cutting into any watermelon, you should wash it thoroughly in the sink (or wipe it off if it doesn't fit in the sink).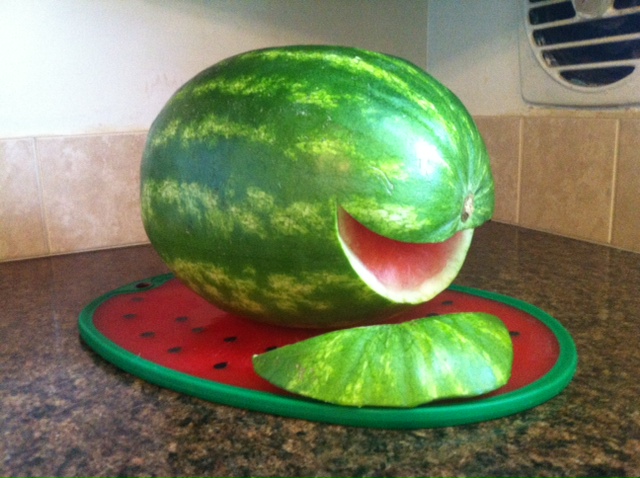 The only cut you have to make in your Watermelophant is the mouth. As you can see in the image at the top of this entry and the image above, the cut looks simple, but the angles make it a little trickier than you might think. Take your time, and you should be okay!
You have a couple options when it comes to cutting the Watermelophant's trunk and ears. You can cut them from watermelon rind or you can create them using other materials. If you're using rind, you'll need a second watermelon. As you can see above, I carved the trunk of my Watermelophant from rind.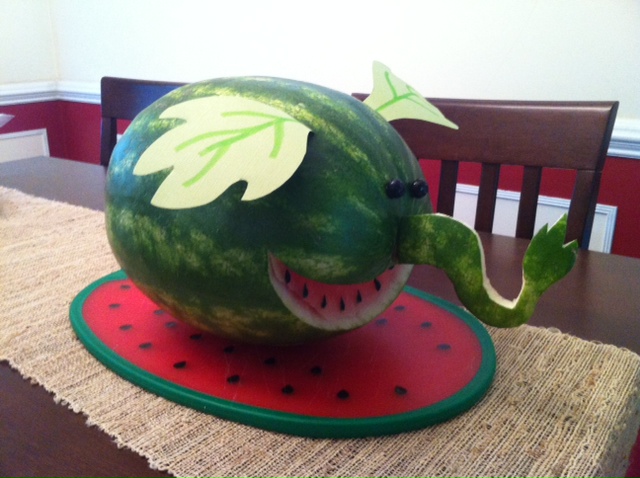 After you attached the trunk, you'll need to attach the ears and eyes. For the ears, I used construction paper. If you have large leaves, those are even better. The eyes, placed relatively close together just above the trunk, are a pair of blueberries affixed with toothpicks.
Finally, your Watermelophant needs teeth. If you have real watermelon seeds (feel free to buy a packet of seeds if you need to), you can use those. I couldn't find real seeds, so I cut my seeds from black construction paper. I think that method works even better than real seeds, because paper sticks easily to the wet watermelon flesh, and I'm not sure if I would have had the same success with the real thing.
And there you have it — a Cloudy with a Chance of Meatballs Watermelophant!
Posted in
General
|
4 Comments »