According to some folks, there aren't many breakfast foods that are as easy and simply delicious as Eggs Benedict. Most people love the dish for the hollandaise sauce, which is a rich, creamy mixture of egg yolk and butter. I, on the other hand, am not a big fan of egg yolks, which is why I've always steered clear of eggs benedict when I've spotted it on a menu.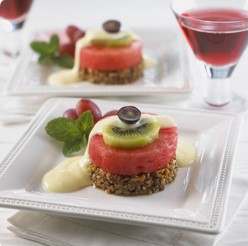 Watermelon Benedict, on the other hand, is something I'd definitely try. Mainly because it uses lemon yogurt instead of egg yolks. And it uses watermelon. So, really, I have no reason NOT to love this breakfast!
WATERMELON BENEDICT
INGREDIENTS:
1-1/2 cups low-fat granola of choice
1/3 cup honey at room temperature
4-6 circles seedless watermelon (3" round and ¾" thick)
4-6 slices peeled kiwi fruit (1/2" thick)
1 cup low or non-fat creamy lemon yogurt
2-3 pieces purple grapes, halved, seeded, for garnish
INSTRUCTIONS:

Mix the granola with the honey by drizzling the honey evenly over the granola as you stir. On a serving plate, make 3-inch circles of granola in even thickness, dividing the granola/honey mixture evenly among the servings. Top each of the granola circles with a watermelon slice and place a slice of kiwi on each watermelon circle. Spoon the yogurt over the kiwi and watermelon as though it were hollandaise sauce on Eggs Benedict. Top each Watermelon Benedict with a grape half; skin side up as a garnish reminiscent of the olive slice on Eggs Benedict. Serves 4-6.
For more recipes using watermelon, check out the "Recipes" section
of the National Watermelon Promotion Board website.
UP NEXT: Six questions with a watermelon carver