Depending upon where you live, any precipitation you might get this month will probably fall in the form of snowflakes, not rain drops. Oh, sure, some of you might get rain. Fans in Florida (shout out to the National Watermelon Promotion Board!) and other southern states probably won't see much snow. Same with Texas, California and other warm states. For them, the song "I'm Dreaming of a White Christmas" has little or no meaning, and that, you have to admit, is a tiny bit sad.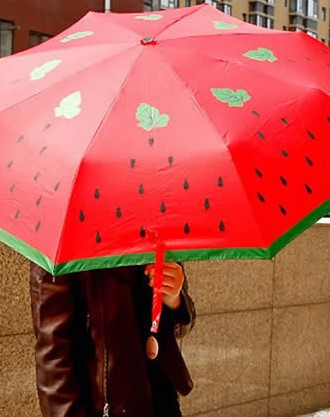 I'm sure they're not too heartbroken about it. After all, they'll wake up on Christmas morning to a beautiful, sunny day and 60-degree temperatures right around the same time most of us in the northeast are cursing the winter chill and counting down the days until spring.
Either way, we all need an umbrella at some point during the year — even if Floridians need it a little less often — which is why I'm giving away the colorful watermelon umbrella you see above ($19 on FeelGift.com) as this week's "gift for watermelon lovers" to one commenter chosen at random from all the comments left on the blog this month.
Like the website says, it's great for rainy days, but it also doubles as a shady escape on sunny days. Another perk: You'll never accidentally grab the wrong umbrella from the bin again, because there's a pretty good chance that it'll be the only red umbrella with watermelon seeds on it.
UP NEXT: A very jiggly recipe