You know, it's not easy choosing a prize to give away here on the blog each month. Actually, that's not entirely true. There are plenty of watermelon-related gifts to choose from; it's just that I'm a little picky when it comes to finding the "perfect" one.
I'm the same way with birthday gifts, Christmas gifts, anniversary gifts … you name it. I shouldn't be – it's the thought that counts, right? – but I always end up spending way too much time agonizing over my options and getting stressed out about something that, frankly, shouldn't be that stressful.
With that in mind, I've begun combing through watermelon gifts that I've given away in the past to see which prizes deserve a return to the spotlight. This month's prize was originally posted back in 2009, but it's one of the cooler things we've featured on the blog, so I've decided to give it another look.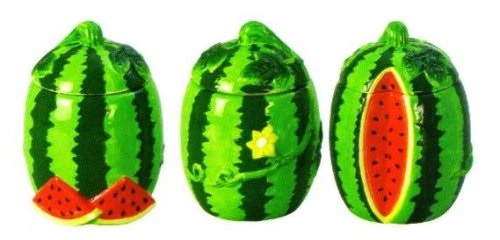 It's a set of three ceramic watermelon canisters (above). The canisters stand about eight inches tall and are available on Amazon.com. The site even mentions that they're great for storing "cookies, crackers, noodles, flour, sugar, candy… whatever you want!"
If the canisters were mine, I'd probably fill them with breakfast cereal (I'm an addict) and coffee (also an addict). If you win the canisters, what would you fill them with?
Leave a comment below with your answer. I'll choose one comment at random from all the comments left on the blog this month to win the canisters. Good luck!