As someone who stares at three cubicle walls all day, I understand the importance of the photos, memos and keepsakes people keep at their desks. On my desk, I have a photo of my wife and I on our honeymoon in Hawaii (I still wear those ugly swim trunks from time to time), a tiny, plastic pony from my daughter's third birthday party and a barrage of Post-It notes which also serve as a task calendar.
What you use to spice up your drab workspace actually says a lot about you. For instance, if you surround yourself with images of palm trees and white beaches, you might be yearning for an escape. If you're like me, you keep a picture or themed-calendar to make you forget, even if just for a minute, about the mountain of paperwork sitting next to you.
If you need an escape without leaving the office, this week's holiday watermelon prizes are just what you need. The first watermelon prize up for grabs is a Watermelon Mouse Pad ($12). The second is a watermelon notebook ($9), which means taking notes just got a whole lot sweeter. And if that doesn't tempt you enough, check out this awesome watermelon flash memory drive ($15) with 16GB of memory (that's enough for 8,000 pictures of watermelons)!
This week, I'll choose THREE comments at random from all of the comments left on the blog this month and give you your choice of these three prizes. Good luck!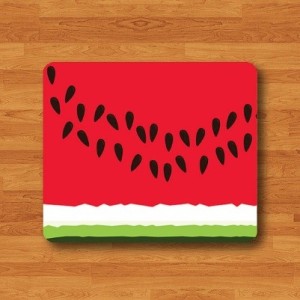 Image courtesy of Etsy
UP NEXT: MY 2016 NEW YEAR'S RESOLUTION