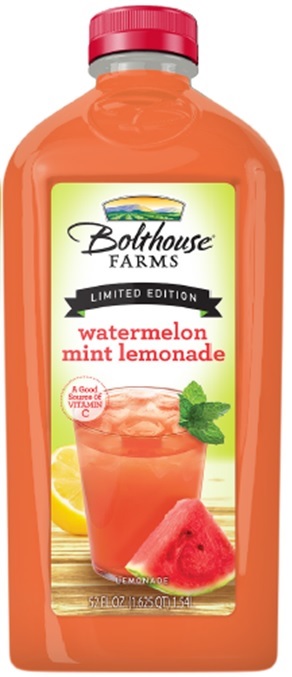 I really didn't plan to offer so many drink-themed prizes this year; it just sort of worked out that way. So far this year, we've given away watermelon-flavored water, watermelon drops to add to your own water, and last month's prize, which highlighted Chili's new, watermelon-flavored drink menu.
This month's prize continues the hydration theme and, in my opinion, is probably the tastiest prize of 2014. It's Bolthouse Farms' Watermelon Mint Lemonade. The Watermelon Mint Lemonade is a brand-new, summer-only item that's available through August wherever Bolthouse Farms drinks are sold.
According to the folks at Bolthouse Farms, the new drink "sports a trifecta of flavorful goodness: peak-season watermelon, lemons for classic refreshment and fresh mint to surprise unsuspecting tastebuds."
A few months ago, before the Watermelon Mint Lemonade was even in stores, the Bolthouse Farms team was kind enough to send me a few samples of the new beverage. As a watermelon fan AND a lemonade fan, I was pretty excited to give it a try.
So how's it taste? Pretty much like summer in a bottle. But, then again, that's what you'd expect from something that combines two great summer flavors like lemonade and watermelon.
Seriously, you'll have to resist the temptation to pop off the lid and chug this stuff straight from the family-sized, 52-ounce bottle. Not that there's anything wrong with that. If that's what you want to do, then go right ahead. My wife tends to frown on that sort of behavior, so I'm forced to do my chugging from the glass. It's still refreshing, but not nearly as fun.
Leave a comment with your thoughts on this combination of lemonade and watermelon. I'll choose one comment at random from ALL the comments left on the blog this month to win two containers of Bolthouse Farms' new Watermelon Mint Lemonade. Also, be on the lookout this month for, not one, but two recipes using the new drink!