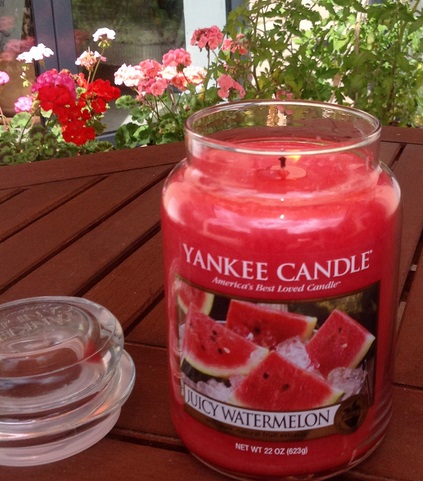 Fall has officially arrived. Actually, it arrived about six weeks ago, but it's definitely here in my neck of the woods. I know that for two reasons: 1) Because I spent much of October raking leaves in our yard, and 2) My wife has unearthed our stockpile of fall-scented candles.
Her collection includes all sorts of delicious-smelling options like Pumpkin Pie and Banana Nut Bread. They smell very much like November and make me very hungry every time she burns them. That temptation is the inspiration behind this month's prize: the watermelon-scented candle.
I know what you're probably thinking: "But Watermelon Guy, isn't a watermelon-scented candle more appropriate for June or July?"
The answer, for most folks, is "yes," but I've always been a firm believer that watermelon shouldn't be confined to the spring and summer months. It should be enjoyed all year round, and that includes savoring its sweet scent even when there might be eight inches of snow on the ground.
If you agree, leave a comment below. I'll choose one comment at random from all the comments left on the blog this month to win the candle!
This particular "Juicy Watermelon" candle is made by Yankee Candle, and it's the big 22-ounce size, which means you'll get 110 to 150 hours of burning time out of it. If you burn it for one hour every day starting in December, it'll last until the beginning of May. Hello, spring!
UP NEXT: An unforgettable Thanksgiving breakfast