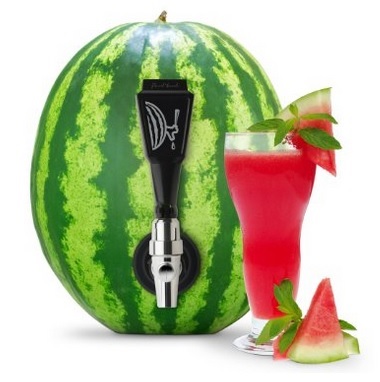 It's a not-so-well-known fact that early explorers used hollowed-out watermelons as canteens to hold water while they were off doing explorer stuff. Considering that watermelons are 92 percent water, using an empty watermelon to store some tasty beverages seems like a perfectly reasonable idea.
These days, you can transform your own watermelon into a beverage dispenser with the help of this month's prize – the watermelon keg kit ($22.99 on Amazon). The kit includes a faucet with a handle, a shank (I'm not 100 percent sure what that is, but it sounds important), a coring tool and installation instructions. Bonus: The kit can also be used with pumpkins for fall celebrations.
According to the product's description, all you need to do is "follow the fool-proof instructions and in no time flat you'll have a watermelon cocktail keg that will be the envy of all your guests. It's fun. It's unique. It's a surefire hit at any fun time event!"
What beverage you fill your watermelon keg with is up to you. Maybe you'll be tempted to fill it with beer (I know I would), but you might also choose to make a watermelon-based drink from any of the recipes found on the National Watermelon Promotion Board website. After my wife steered me away from filling it with beer, I'd probably opt for a simple yet refreshing drink like watermelon agua fresca.
Leave a comment below with what YOU'D fill your watermelon keg with if you won this prize. I'll choose one comment at random from all the comments left on the blog this month as the winner. Cheers!
UP NEXT: 20 ways to enjoy watermelon