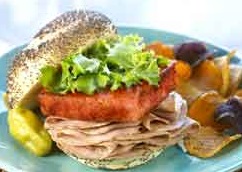 Have you ever put a slice of watermelon on a sandwich or burger? If not, you definitely should. Just a thin slice – maybe a quarter of an inch thick – right there on top. It pretty much takes the place of the tomato, but with a little extra sweetness.
Today's recipe does exactly that, but the watermelon slice is dusted with chili powder. Combine that with the honey mustard, and it takes the sweet watermelon in a whole new and exciting direction. By the way, you can do the chili powder-dusted watermelon slice trick with just about any sandwich. Except maybe peanut butter and jelly. Actually, a PB&J with a slice of chili watermelon might not be half bad!
ROASTED PORK LOIN AND WATERMELON SANDWICH
INGREDIENTS
1 poppy seed or Kaiser roll, split
Dash of honey mustard (to taste)
6 ounces thinly sliced roasted pork loin
1 3/4 inch thick slice of watermelon, about the size of the roll
1/2 teaspoon mild chili powder
2 ounces fresh baby greens

INSTRUCTIONS

Spread honey mustard liberally over the inside of the roll and layer the pork over the bottom piece. Sprinkle the watermelon with chili powder and place over the pork. Top the watermelon with the greens and cover with the roll top, mustard-side down.
For more recipes using watermelon, check out the "Recipes" section of the National Watermelon Promotion Board website.