Our fourth and final weekly gift for watermelon lovers is one that's sure to bring back lots of memories for anyone born before 1980. It's a watermelon pencil sharpener ($7.69 on Amazon)! I'll give it away to one commenter chosen at random this month.
I say it'll bring back memories for anyone born before 1980 because, quite frankly, I'm not sure if children of the 90s and today even use pencils any more. If they do, they probably use mechanical pencils, which makes that thing mounted on the wall at the front of the classroom pretty much obsolete.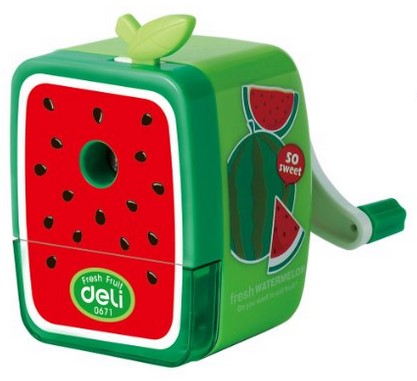 Remember using those pencil sharpeners in classrooms? You always knew which classrooms had a good sharpener and which ones didn't. The good ones would give you a perfect point every time, with only five or six smooth turns of the handle. The bad ones would wobble and break the point of the pencil, requiring yet another sharpening, which would reduce your brand new #2 pencil to a two-inch nub before you could say "Little Rock is the capital of Arkansas."
I assume the watermelon sharpener being given away here today is a good one. I'm also assuming you actually own pencils that require sharpening. If not, you should run out and buy a box of 100 or so and spend a good hour sharpening each one to a perfect point. And don't forget to blow on the end of each when you're done. You don't really need to do that, but it seems like an important part of the pencil-sharpening process.
UP NEXT: Tidings of Christmas cheer