Lately, my wife has been on a kick to try new and interesting dishes to spice things up at the dinner table. She loves to cook, which is great, because I like to eat. Over the past two or three months, she's even taken some inspiration from my New Year's resolution and has featured watermelon in some really tasty ways.
Like this recipe for Watermelon Benedict. So simple, so easy, yet supremely delicious. My wife likes it because it's a quick breakfast, and I like it because it uses watermelon. But don't take my word for it. Go ahead and make it for yourself!
WATERMELON BENEDICT
INGREDIENTS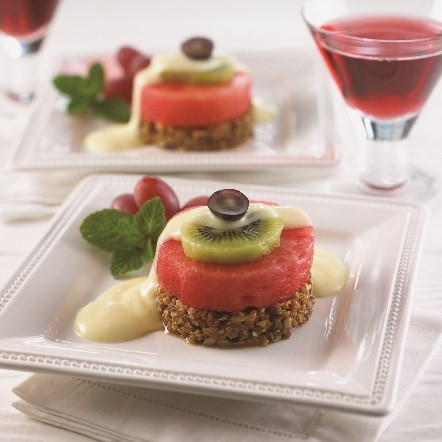 1 ½ cups low-fat granola of choice
1/3 cup honey at room temperature
4-6 circles seedless watermelon (3" round and ¾" thick)
4-6 slices peeled kiwi fruit (1/2" thick)
1 cup low or non-fat creamy lemon yogurt
2-3 purple grapes, halved, seeded for garnish
INSTRUCTIONS
Mix the granola with the honey by drizzling the honey evenly over the granola as you stir. On a serving plate, make 3-inch circles of granola in even thickness, dividing the granola/honey mixture evenly among the servings.
Top each of the granola circles with a watermelon slice, and place a slice of kiwi on each watermelon circle. Spoon the yogurt over the kiwi and watermelon as though it were hollandaise sauce on eggs benedict.
Top each watermelon benedict with a grape half, skin side up as a garnish reminiscent of the olive slice on eggs benedict.
REMEMBER: All comments left on the blog this month are entered to win our September prize — the watermelon pop-out cutter — so comment as often as you'd like! 
UP NEXT: Growing the World's Largest Watermelon